2005 October Results
October Specialty Championship Show 2005
Judge: Mr Rob Lawson - USA
Total Entry: 83
Special Vet Bitch (3/4)
1. Gr Ch Karridgeway Wild Peach (Brynes-Suchy)
2. Gr Ch Dumbledeer Youngs Hope AI (Davies/Wright)
3. Ch Exchecka Maggie T (Atkinson)
Best Special Veteran - Gr Ch Karridgeway Wild Peach
Veteran Dog (2/2)
1. Gr Ch Ravenwynter River Red (Lucas)
2. Baronmoore Cambridge ET (Collins)
Veteran Bitch (1/1)
1. Yarrowfell Whirlwind ET (Woiwade)
Best Veteran - Gr Ch Ravenwynter River Red
Baby Dog (4/4)
1. Sprintaway Star Gazer (Donald)
2. Ottatella Cardinal (Johnson)
3. Dumbledeer U Dared Me (Young)
Minor Dog (1/1)
1. Wanjdal Hugo The Boss (McLean)
Puppy Dog (4/4)
1. Arraglim Gamblin Man (Duncan)
2. Karridgeway Wolf Whistle (Byrnes-Suchy)
3. Yarrowfell Gold Sovereign (Hurst/Woiwade)
Junior Dog (3/3)
1. Paceaway Poirot (Dyer)
2. Blairwick Southern Cross (Beves/Estatheo)
3. Yarrowfell Golden Touch (Hurst)
Intermediate Dog (8/9)
1. Yarrowfell Fyrebrand (Baird)
2. Hillofsilver Lazer (Doong)
3. Krystaway Dream Catcher (Donald)
4. Paceaway Iced T (Francis)
Aust Bred Dog (3/4)
1. Ch Exchecka Etcetera (Atkinson)
2. Ch Lukius Draco Malfoy ET (Woiwade)
3. Ch Dallydom Canopus (Brown)
Open Dog (4/4)
1. Ch Starswept Canada Holiday AI (Davies/Wright)
2. Ch Ozzispot Stare If U Dare (Byrnes-Suchy)
3. Ch Spottospot GamesetNmatch (Blair/Chadwick)
Challenge Dog - Yarrowfell Fyrebrand
Reserve Challenge Dog - Ch Starswept Canada Holiday AI
Neuter Dog (1/1)
1. Harmonyhill Casper ET (Collins)
Baby Bitch (9/9)
1. Dumbledeer Ultra Sound (Young)
2. Dumbledeer U B Wicked (Young)
3. Retma Song In Flight (Van Der Weg)
4. Sprintaway Solitaire (Donald)
Minor Bitch (1/1)
1. Lukius Razin Mayhem (Woiwade)
Puppy Bitch (3/3)
1. Dumbledeer Tinker Belle (Young)
2. Starswept Star O Hope (Davies/Wright)
3. Withaspot Burning Desire (Dunscombe)
Junior Bitch (3/4)
1. Arraglim Bella Brooklyn (Duncan)
2. Dumbledeer Thalia (Lawson)
3. Varewell Mystic Song (Van Der Weg)
Intermediate Bitch (12/12)
1. Ch Paceaway Iced Koffee (Dyer)
2. Sprintaway Rubica Red (Donald)
3. Ch Ravenwynter Seduction (Lucas)
4. Hillofsilver Lulu (Doong)
5. Dallydom Cassiopeia (Brown)
Aust Bred Bitch (7/8)
1. Hillofsilver Lillibet (Johnson)
2. Wanjdal Genevieve (McLean)
3. Kronborg Kitayne (Francis)
4. Ch Yarrowfell Alls Forgiven CD ET (Hurst)
Open Bitch (7/7)
1. Ch Starswept Dalenciaga (Davies/Wright)
2. Ch Daligere Elvira Madigan (Van Der Weg)
3. Ch Ravenwynter Danseuse (Lucas)
Challenge Bitch - Ch Paceaway Iced Koffee
Reserve Challenge Bitch - Arraglim Bella Brooklyn
Neuter Bitch (2/2)
1. Hillofsilver Harlow (Osmond)
2. Hillofsilver Krystal (Osmond)
Best In Show - Ch Paceaway Iced Koffee
Runner Up Best in Show - Arraglim Bella Brooklyn
Opposite Sex In Show - Yarrowfell Fyrebrand
Best Baby Puppy in Show - Dumbledeer Ultra Sound
Opp Baby Puppy in Show - Sprintaway Star Gazer
Best Minor Puppy in Show - Wanjdal Hugo The Boss
Opp Minor Puppy in Show - Lukius Razin Mayhem
Best Puppy in Show - Dumbledeer Tinker Belle
Opp Puppy in Show - Arraglim Gamblin Man
Best Junior in Show - Arraglim Bella Brooklyn
Opp Junior in Show - Paceaway Poirot
Best Intermediate in Show - Ch Paceaway Iced Koffee
Opp Intermediate in Show - Yarrowfell Fyrebrand
Best Aust Bred in Show - Hillofsilver Lillibet
Opp Aust Bred in Show - Ch Exchecka Etcetera
Best Open in Show - Ch Starswept Canada Holiday AI
Opp Open in Show - Ch Starswept Balenciaga

Best Neuter in Show - Hillofsilver Harlow
Opp Neuter in Show - Harmonyhill Casper ET
Best In Show
Bitch Challenge / Best Intermediate In Show
Ch Paceaway Iced Koffee
Miss L Dyer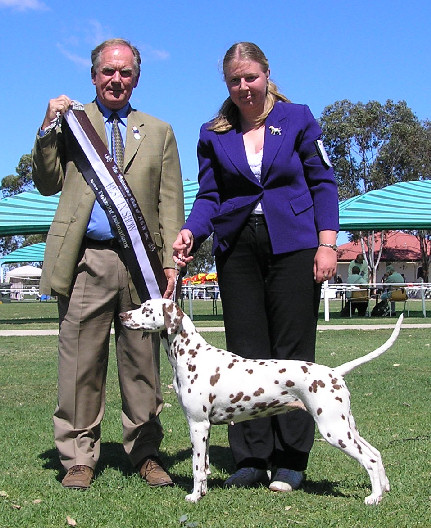 Runner Up Best in Show
& Reserve Challenge Bitch / Junior in Show
Arraglim Bella Brooklyn
Mr D & Mrs S Duncan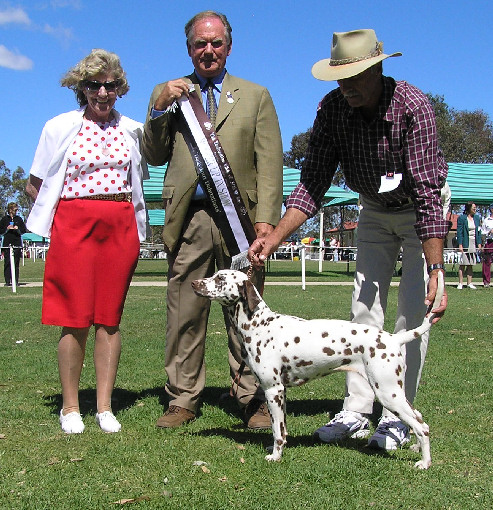 Opposite Sex in Show
& Challenge Dog / Opposite Sex Intermediate in Show
Yarrowfell Fyrebrand
Mrs J Baird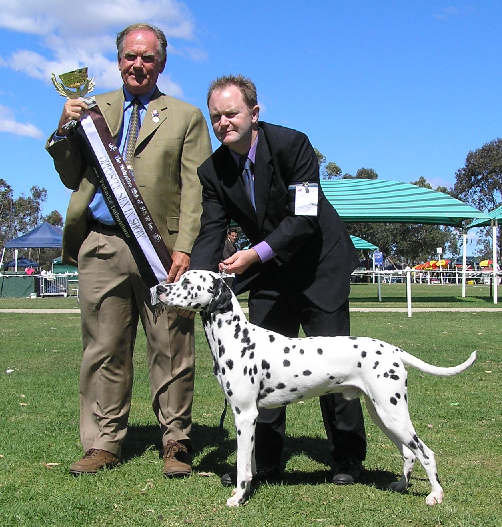 Challenge Winners
Ch Paceaway Iced Koffee - Bitch Challenge Winner
Yarrowfell Fyrebrand - Dog Challenge Winner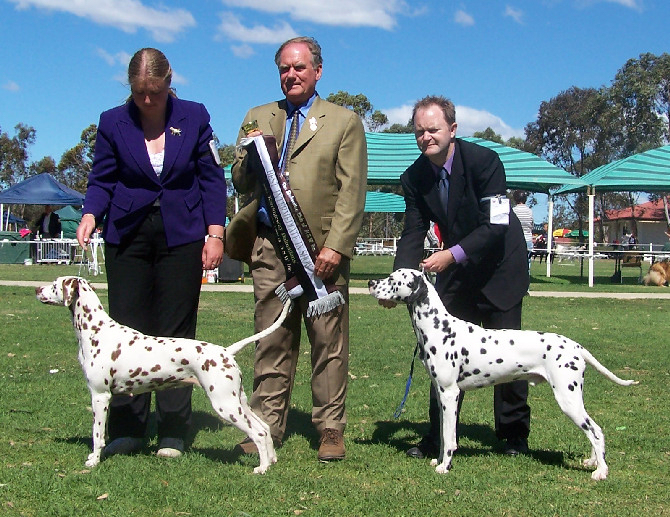 Baby Puppy In Show (Left) &
Opposite Sex Baby Puppy In Show (Right)
Dumbledeer Ultra Sound
Mr R, Mrs M & Ms P Young

Sprintaway Star Gazer
Mr M & Mrs L Donald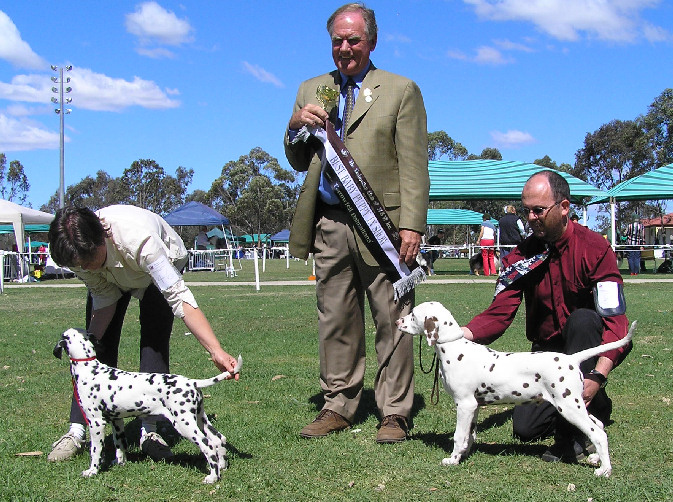 Minor Puppy In Show (Left) &
Opposite Sex Minor Puppy In Show (Right)
Wanjdal Hugo The Boss (Left)
Mr W & Mrs J McLean
Lukius Razin Mayhem (Right)
Miss R Woiwade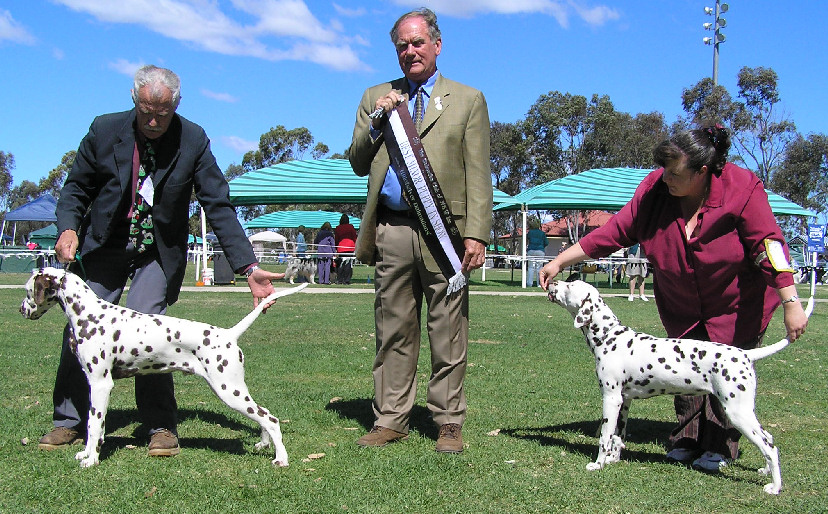 Puppy In Show (Left) &
Opposite Sex Puppy In Show (Right)
Dumbledeer Tinker Belle (Left)
Mr R, Mrs M & Ms P Young
Arraglim Gamblin Man (Right)
Mr D & Mrs S Duncan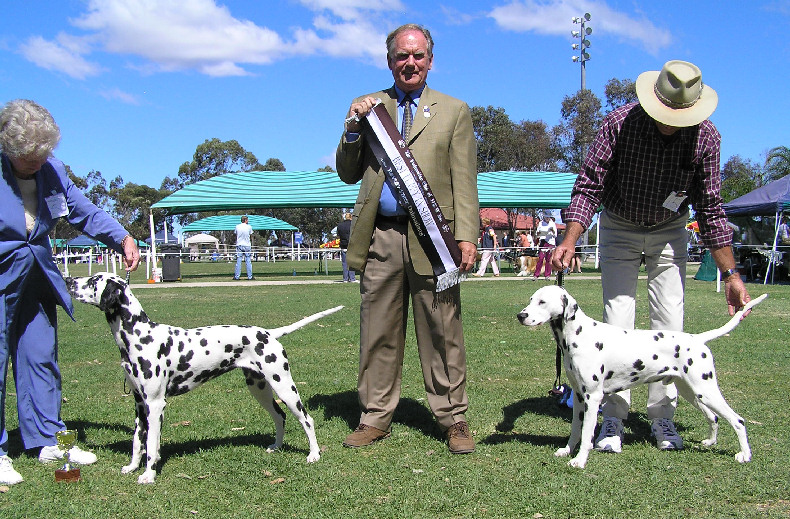 Junior In Show (Left) &
Opposite Sex Junior In Show (Right)
Arraglim Bella Brooklyn (Left)
Mr D & Mrs S Duncan
Paceaway Poirot (Right)
Mrs P & Miss L Dyer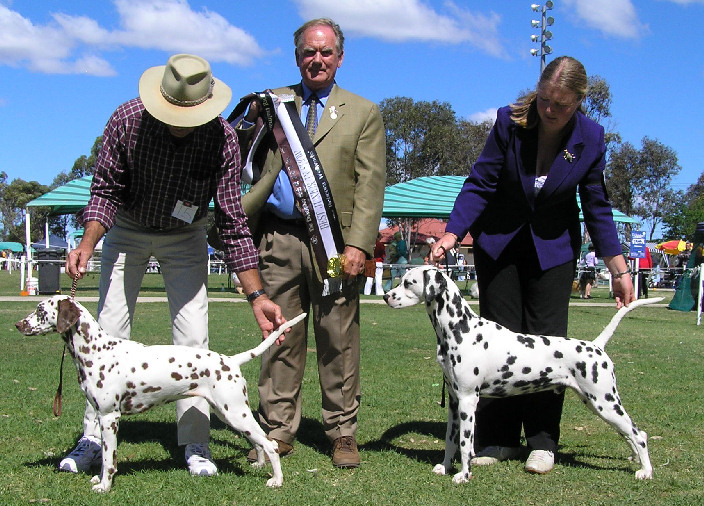 Intermediate In Show (Left) &
Opposite Sex Intermediate In Show (Right)
Ch Paceaway Iced Koffee (Left)
Miss L Dyer
Yarrowfell Fyrebrand (Right)
Mrs J Baird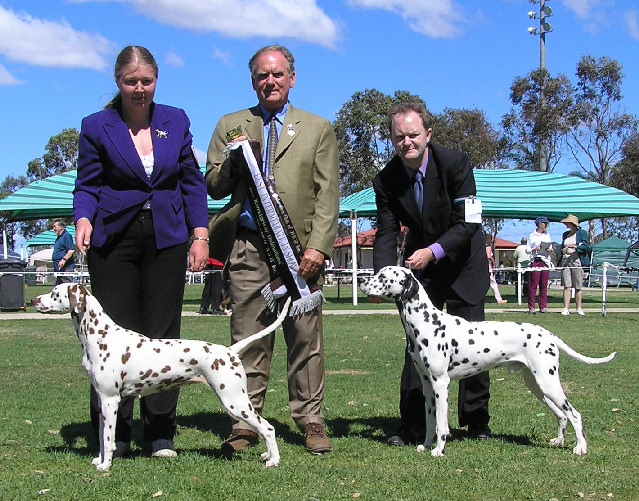 Australian Bred In Show (Left) &
Opposite Sex Australian Bred In Show (Right)
Hillofsilver Lillibet (Left)
Mr D Johnson
Ch Exchecka Etcetera (Right)
Ms J Atkinson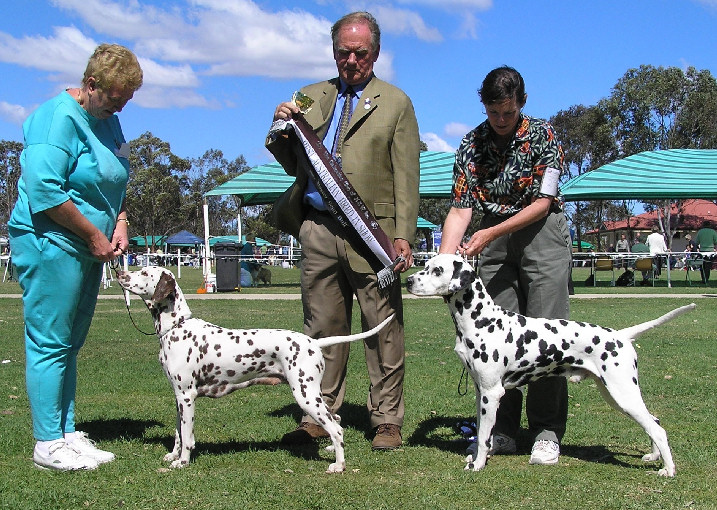 Neuter In Show (Left) &
Opposite Sex Neuter In Show (Right)
Hillofsilver Harlow (Left)
Mrs L Osmond

Harmonyhill Casper ET (Right)
Miss A Collins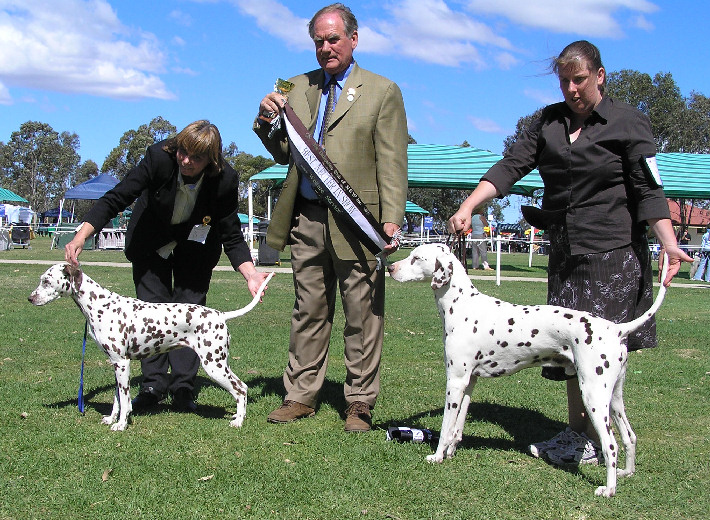 Veteran In Show (Left) &
Opposite Sex Veteran In Show (Right)
Gr Ch Ravenwynter River Red (Left)
Mr R Lucas
Yarrowfell Whirlwind ET (Right)
Ms R Woiwade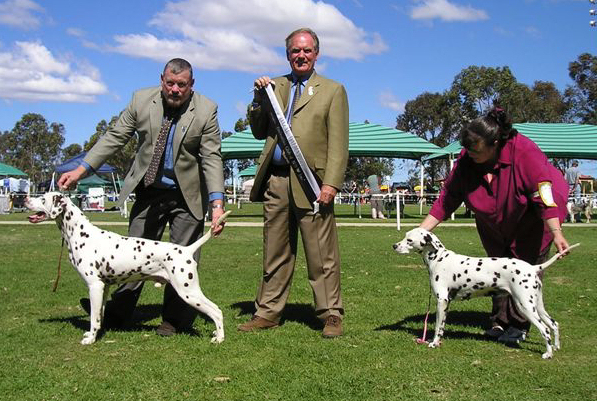 Special Veteran In Show
No Photo Taken

Gr Ch Karridgeway Wild Peach (Left)
Owned by Ms C Byrnes-Suchy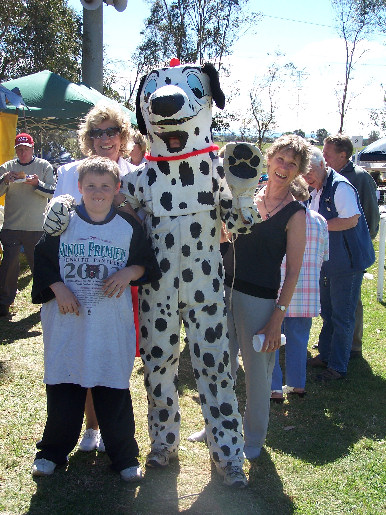 Some of the visitors to the show.
(Can you guess who is in the suit??)
Critique
GENERAL.
Firstly, it was a pleasure to be invited to judge this show as it had been many years since the previous time and more years than I want to remember when I used to exhibit there. Sorry for the delay in this, but Hurricanes caused many problems. Still no new roof!
I was pleasantly surprised at the overall quality of the Dalmatians. The temperaments were excellent which is so important in our breed. Overall the markings and pigment was good in the Blacks and Livers. As for many years, heads varied, but this is a universal issue. I would say in general that the Bitches were better overall than the Dogs.
Meeting so many of you that I had not seen for years was also a wonderful experience. I would like to congratulate the Club on holding the interest of so many members over the years. It is not easy, and you should be commended for it.
Special Veteran Bitch
1. Gr Ch Karridgeway Wild Peach (Brynes-Suchy)
Very well balanced overall for her age. Moved quite freely. Good top line, nice clean head, balanced front and rear.
2. Gr Ch Dumbledeer Youngs Hope AI (Davies/Wright)
She's also quite a nice girl, movement not up to par of the 1 st . on the day. Well-marked.

3. Ch Exchecka Maggie T (Atkinson)
It was Just bad luck today. The other two were marginally better but she is very nice.
Veteran Dog
1. Gr Ch Ravenwynter River Red (Lucas)
Quite a lot of substance. Well angulated front & rear. Moved out well. Showing a little bit of signs of his age.

2. Baronmoore Cambridge ET (Collins)
A reasonably well balanced dog. Not as angulated front and rear as the first.
Veteran Bitch
1. Yarrowfell Whirlwind ET (Woiwade)
Nicely marked, evenly balanced.
Baby Dog
1. Sprintaway Star Gazer (Donald)
Good angulations front & rear. Had a clean body. Nice balanced head for his age, and good tail carriage, good movement in front as well.

2. Ottatella Cardinal (Johnson)
movement and overall balance wasn't quite as good as the first, but well angulated.

3. Dumbledeer U Dared Me (Young)
A little puppy looks like he's got a promising future. A little baby at the moment in his class. Would love to see him in another six or nine months.
Minor Dog
1. Wanjdal Hugo The Boss (McLean)
Nice well rounded sort of a dog. Moved reasonably well. Markings reasonable.
Puppy Dog
1. Arraglim Gamblin Man (Duncan)
Lightly, but nicely marked. Had more balance overall with angulation front & rear and a good height to length ratio.

2. Karridgeway Wolf Whistle (Byrnes-Suchy)
Good pigment but a little long in the body at this stage for me.

3. Yarrowfell Gold Sovereign (Hurst/Woiwade)
Nice overall, good reach in drive but a little soft in the front.
Junior Dog
1. Paceaway Poirot (Dyer)
Had good angulations in front & rear, well marked, a little long in the body for me. His tail carriage a little high. Overall better than the others.

2. Blairwick Southern Cross (Beves/Estatheo)
Nicely marked dog, not as good as angulation and his front movement needs to settle down.

3. Yarrowfell Golden Touch (Hurst)
Balanced, nicely marked. Needs a little bit of training as far as showing is concerned.
Intermediate Dog
1. Yarrowfell Fyrebrand (Baird)
Overall is very balanced, clean, good contrasting pigmentation.

2. Hillofsilver Lazer (Doong)
Similar attributes as 1 st ., a little bit more in the front than in the rear but overall a nicely balanced dog.

3. Krystaway Dream Catcher (Donald)
Not as good contrasting pigmentation, nice movement, a little bit over angulated at times.

4. Paceaway Iced T (Francis)
Liver well marked lacking in some angulation for drive, but moved soundly.
Aust Bred Dog
1. Ch Exchecka Etcetera (Atkinson)
Good size strong dog, pretty well balanced. Tail sits a bit high.

2. Ch Lukius Draco Malfoy ET (Woiwade)
Reasonably well balanced dog. Could be a little bit more masculine for me and movement not as fluid.

3. Ch Dallydom Canopus (Brown)
Not a bad outline and confirmation overall. Some temperament issues on the day that you have to take into account at a specialty.
Open Dog
1. Ch Starswept Canada Holiday AI (Davies/Wright)
Was placed there due to his overall balance. On the smaller size for me and could be more masculine. Well balanced front & rear, Nice head shape and eye color. Moved evenly but did not reach and drive today.

2. Ch Ozzispot Stare If U Dare (Byrnes-Suchy)
I'd like a bit more width in the front, slightly long in the body but evenly marked.

3. Ch Spottospot GamesetNmatch (Blair/Chadwick)
A nice stylish dog but had some rear quarter problems today, otherwise I would have put him further up the line
Challenge Dog - Yarrowfell Fyrebrand
Reserve Challenge Dog - Ch Starswept Canada Holiday AI
Challenge Dog Line-up - This was what I would call interesting to judge. You only have a short time for decisions. The Open dog was balanced and standing well. The intermediate dog was also well put together. At decision time, they both had their attributes and differences. The Intermediate had more reach, drive and moved with rhythm.
Neuter Dog
1. Harmonyhill Casper ET (Collins)
A first for me, a nice little dog enjoying his day off.
Baby Bitch
1. Dumbledeer Ultra Sound (Young)
A little baby probably just into the class, very well angulated, very well put together for her age.

2. Dumbledeer U B Wicked (Young)
Very similar type. As they both mature, there placing could change.

3. Retma Song In Flight (Van Der Weg)
A liver, reasonably well put together – needs to body up a little bit more.

4. Sprintaway Solitaire (Donald)
A nice young girl, nicely marked and should develop well.
Minor Bitch
1. Lukius Razin Mayhem (Woiwade)
A liver well marked, reasonably put together front and rear just needs to learn a little more about exhibiting.
Puppy Bitch
1. Dumbledeer Tinker Belle (Young)
Well balanced front and rear, good pigment, moved true with some ease.

2. Starswept Star O Hope (Davies/Wright)
A lighter marked bitch with good pigment and reasonable angulations. A little bit high in tail set. I would like her stretched out more.

3. Withaspot Burning Desire (Dunscombe)
Markings weren't as good as was the movement. needs to tighten up the feet and strengthen the body a bit.
Junior Bitch
1. Arraglim Bella Brooklyn (Duncan)
A well balanced young liver, good angulation front & rear. Moved very well, front and rear.

2. Dumbledeer Thalia (Lawson)
A black Bitch, nicely marked, nicely pigmented, not as much angulation as number one but moved true as well.

3. Varewell Mystic Song (Van Der Weg)
A black Bitch, just not up to the first two, but very nice.
Intermediate Bitch
1. Ch Paceaway Iced Koffee (Dyer)
A liver Bitch, nice head, nicely marked, very evenly balanced front and rear and moved in a smooth rhythmatic fashion.

2. Sprintaway Rubica Red (Donald)
Also a liver, nicely marked and well balanced, just didn't have the class as the first.

3. Ch Ravenwynter Seduction (Lucas)
Another liver, evenly balanced moved well.

The whole top three were quite even.

4. Hillofsilver Lulu (Doong)
A Black Bitch – Well marked, well balanced and moved reasonably well.

5. Dallydom Cassiopeia (Brown)
A liver Bitch – Just not her day today but did well in a big class.
Aust Bred Bitch
1. Hillofsilver Lillibet (Johnson)
A liver – Very well balanced, nice head, nice markings, moved quite well.

2. Wanjdal Genevieve ( McLean )
nother liver, also well marked, well balanced but needs to fill out a little bit more in the chest area I think and in the front but nice overall.

3. Kronborg Kitayne (Francis)
Another liver. Balanced, nicely marked, needs to body up some more.
Open Bitch
1. Ch Starswept Dalenciaga (Davies/Wright)
The most balanced overall. In markings and style, feet, bones, etc

2. Ch Daligere Elvira Madigan (Van Der Weg)
A liver bitch – moved nicely and was basically well balanced.

3. Ch Ravenwynter Danseuse (Lucas)
Well angulated black bitch. Her front was not as good as the others. They are the three most even out of the class.
Challenge Bitch - Ch Paceaway Iced Koffee
Reserve Challenge Bitch - Arraglim Bella Brooklyn
The Challenge Bitch Line Up – was, I thought a good line up. The winner was just overall more soundly balanced front and rear. Nice color and markings - lovely head and good eye shape. Symmetrical in outline with good tail carriage.
The runner-up, a nice young bitch, should develop into something extremely good.
Neuter Bitch
1. Hillofsilver Harlow (Osmond)
A liver bitch good front and rear angulation, nicely marked
2. Hillofsilver Krystal (Osmond)
A very similar type of a dog but one was better than the other today
Best In Show - Ch Paceaway Iced Koffee
Runner Up Best in Show - Arraglim Bella Brooklyn
BEST IN SHOW
I felt the Bitch and winner put her best feet forward. She wanted to win, and displayed a sound, steady gait and really showed herself off. My comments under Challenge Bitch, was why she cemented her win.
My thanks to all the people who entered and those who came along to enjoy the day out. I judge as I see the dogs in the ring and on how they perform. To repeat, the show was a credit to the Club and I hope I will see you all again in the future.