2010 National Results
National Specialty Championship Show 2010
Hosted by The Dalmatian Club of NSW Inc
Judge: Mrs Brenda Rance (UK)
Special Veteran Sweepstakes (7/7)
1. Gr Ch Kirindal King Leopard (Kirin)
2. Ch Exchecka Etcetera (Atkinson)
3. Ch Dumbledeer Gypsy Roamer CD (Young)
Neuter Sweepstakes (6/9)
1. Ch Throdice In Fashion (Forrest)
2. Gr Ch Dalmeadow Annie Laurie (Ritson)
3. Lukius Above N Beyond (Hurst/Woiwade)
Baby Dog (7/7)
1. Paceaway Atrosemount (Matthews)
2. Dumbledeer Zanziba Moon (Young)
3. Dalsue Th Final Flight (Lavery)
4. Dalsue Th Final Countdown (Caroche Knls)
Baby Bitch (8/8)
1. Pampard Phasion N The Field (Marshall)
2. Ozzispot Sinners N Shadows (Irving)
3. Paceaway Rosebud (Matthews)
Best Baby Puppy In Show - Paceaway Atrosemount
Minor Puppy Dog (5/5)
1. Starswept Bonnie Prince (Davies/Wright)
2. Debtin Flying Yamaha (Bisley)
3. Trudals Black Harley (Clark-Pearman)
Puppy Dog (3/4)
1. Jendally Age of Aquarius (Langton-Bunker)
2. Trudals Black Sabbath (Clarke-Pearman)
3. Texico Isle B Cool (AI) (Godyn)
Junior Dog (10/11)
1. Ch Topspott Firebrand (Outlook Knls)
2. Ozzispot Xtreme Addiktion (Irving)
3. Krystaway Weekend Hustler (Harbin)
4. Lykatyga Dark Crystal (Forrest)
Intermediate Dog (12/13)
1. Jendally Kiwi Encounter (IID) (Lubeek & Delmenico)
2. Ch Dumbledeer Xeter (Lawson)
3. Ch Gentry Justa Rockstar (Godyn)
4. Ch Topspott Country Roads (Spencer)
5. Ch Hillofsilver Pheonix (Collins)
Aust Bred Dog (22/22)
1. Ch Emerlyn Letme EntertainU (Lewis)
2. Ch Belnova Prince Regent (Wombwell)
3. Ch Kirindal King Pin (Kirin)
4. Ch Lykatyga Wild Midnight (Donaldson)
5. Seanmya Irish Lord (Seanmya Knls)
Open Dog (17/17)
1. Ch Dallaspots Kid Kermit (Bale)
2. Gr Ch Pampard Parisienne Prince (Marshall)
3. Ch Belnova Harry Potter (Wombwell)
4. Pampard Platinum Edition (Marshall)
5. Phidgity Poltergeist (Imp UK) (Francis)
Veteran Dog (6/7)
1. Ch Pokadot New Sensation ADX JDX (Forrest)
2. Gr Ch Dalridge Phantom Menace (Marshall & Bullen)
3. Ch Blairwick Aragorn ET (Lenne)
4. Ch Lukius Draco Malfoy ET (Woiwade)
Challenge Dog - Ch Emerlyn Letme EntertainU
Reserve Challenge Dog - Ch Topspott Firebrand
Minor Puppy Bitch (6/7)
1. Visualimpact Dvine Chocolat (McConachy)
2. Visualimpact Star Attraction (McConachy)
3. Texico Miss Izzy B (AI) (Godyn)
Puppy Bitch (3/5)
1. Paceaway Kule Kat (Matthews)
2. Paceaway Kit Kat (Dyer)
3. Whytewood Im Itand A Bit (Mclean)
Junior Bitch (10/11)
1. Brewen Kandy Kar (Johns)
2. Topspott Brandy Snap (Hollands)
3. Topspott Cherry Brandy (Spencer)
4. Krystaway Wicked In Silk (Langton-Bunker)
Intermediate Bitch (17/20)
1. Ch Paceaway Fairytales (Matthews)
2. Hillofsilver Queenie (Doong)
3. Ch Trudals Sweet Georgia Brown (Clarke-Pearman)
4. Pampard Phrist Phling (Marshall)
5. Dazzledot Face Ovn Angel (Marr)
Aust Bred Bitch (16/18)
1. Ch Gentry Swept By Stars (Davies & Wright)
2. Ch Dumbledeer Tinkerbelle CCD (Young)
3. Lykatyga Wyld Streak (Forrest)
4. Ch Dallydom Cassiopeia ET (Brown)
5. Ch Yarrowfell High Fashion (Hurst)
Open Bitch (21/24)
1. Ch Starswept Holiday Glitz (Davies & Wright)
2. Ch Hillofsilver Lillibet (Johnson)
3. Gr Ch Ozzispot Tyme to Shine JD SD AD (Irving)
4. Gr Ch Gemcourt Girlz on Avenue (Gemcourt knls & O'Callaghan)
5. Ch Gemcourt Playz With Fire (Marshall)
Veteran Bitch (7/10)
1. Gr Ch Starswept Balenciaga (Davies & Wright)
2. Ch Dumbledeer Magic Mandy (Young)
3. Exchecka Merri May (Lewis)
4. Kronborg Kitayne (Francis)
Challenge Bitch - Ch Starswept Holiday Glitz
Reserve Challenge Bitch - Ch Paceaway Fairytales
Best In Show - Ch Emerlyn Letme EntertainU
Runner Up Best in Show - Ch Topspott Firebrand
Opposite Sex In Show - Ch Starswept Holiday Glitz
Baby Puppy in Show - Paceaway Atrosemount
Opposite Baby Puppy in Show -Pampard Phasion N The Field
Minor Puppy in Show - Starswept Bonnie Prince
Opposite Minor Puppy in Show -Visualimpact Dvine Chocolat

Best Puppy in Show -Jendally Age of Aquarius
Opposite Puppy in Show -Paceaway Kule Kat

Best Junior in Show - Ch Topspott Firebrand
Opposite Junior in Show -Brewen Kandy Kar

Best Intermediate in Show -Ch Paceaway Fairytales
Opposite Intermediate in Show -Jendally Kiwi Encounter (IID)

Best Aust Bred in Show -Ch Emerlyn Letme EntertainU
Opposite Aust Bred in Show -Ch Gentry Swept By Stars

Best Open in Show - Ch Starswept Holiday Glitz
Opposite Open in Show -Ch Dallaspots Kid Kermit

Best Veteran in Show -Gr Ch Starswept Balenciaga
Opposite Veteran in Show -Ch Pokadot New Sensation ADX JDX
Best In Show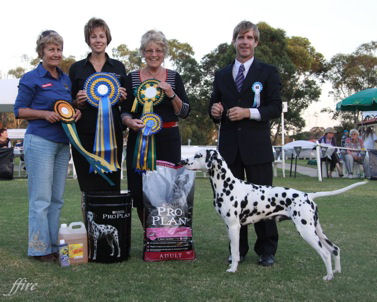 Ch Emerlyn Letme EntertainU
Owned by Dr M & Mrs C Lewis
Also Dog Challenge & Aust Bred in Show



Runner Up Best In Show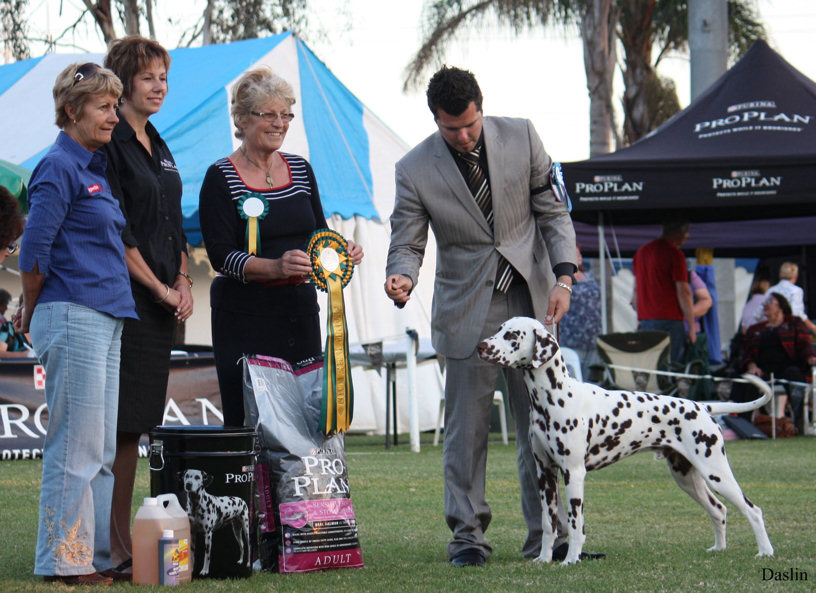 Ch Topspott Firebrand
Owned by Outlook Kennels
Also Reserve Dog Challenge & Junior in Show
Bitch Challenge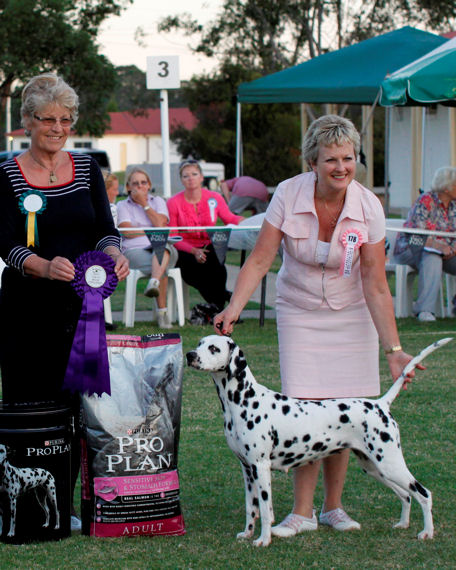 Ch Starswept Holiday Glitz
Owned by Mr P Davies & Mr J & Mrs D Wright

Reserve Bitch Challenge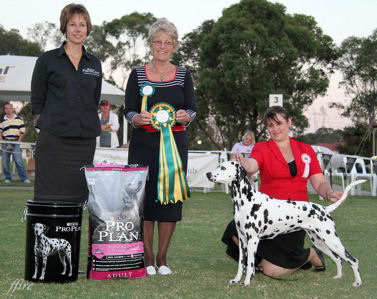 Ch Paceaway Fairytales
Owned by Mrs F Matthews
Special Veteran Sweepstakes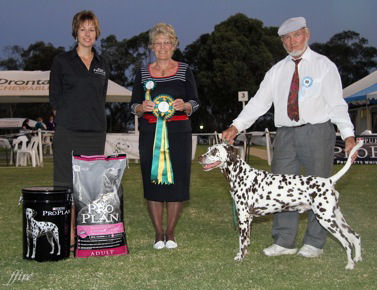 Gr Ch Kirindal King Leopard
Owned by Mrs J Kirin
Neuter Sweepstakes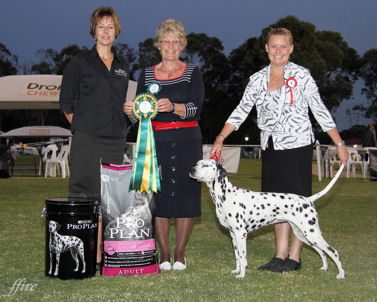 Ch Throdice In Fashion
Owned by Miss A Forrest
Junior In Show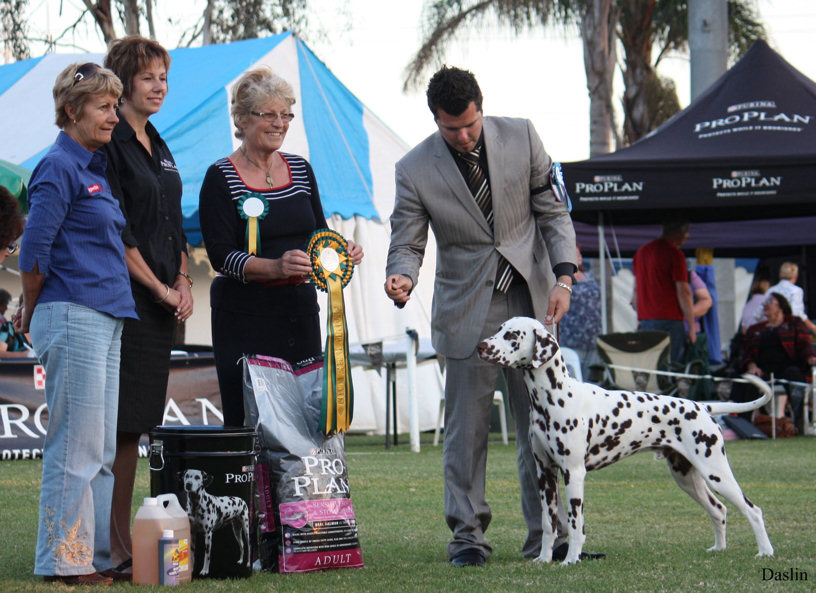 Ch Topspott Firebrand
Owned by Outlook Kennels
Opposite Junior In Show
Brewen Kandy Kar
Owned by B & W Johns



Intermediate In Show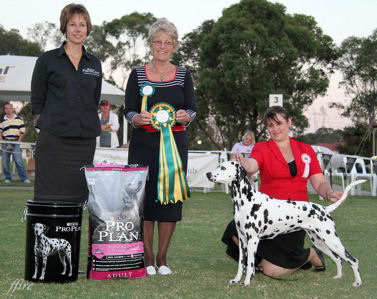 Ch Paceaway Fairytales
Owned by Mrs F Matthews
Opposite Intermediate In Show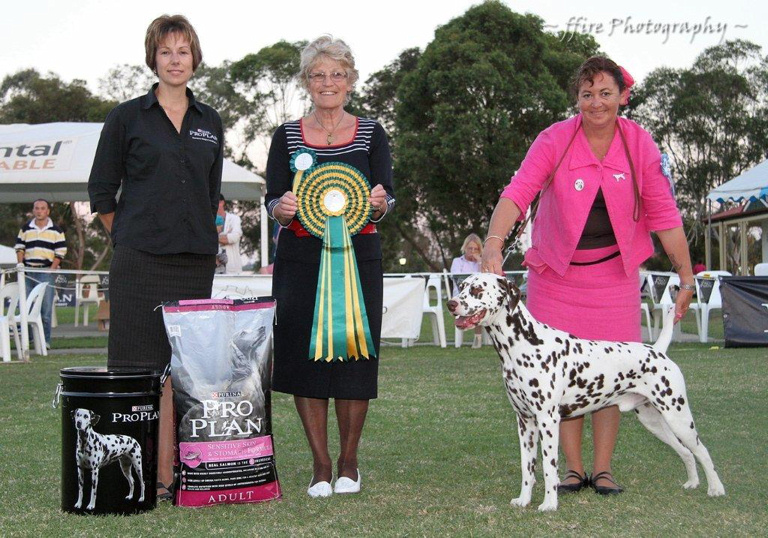 Jendally Kiwi Encounter (IID)
Owned by J Lubeek & J Delmenico
Australian Bred In Show

Ch Emerlyn Letme EntertainU
Owned by Dr M & Mrs C Lewis
Opposite Australian Bred In Show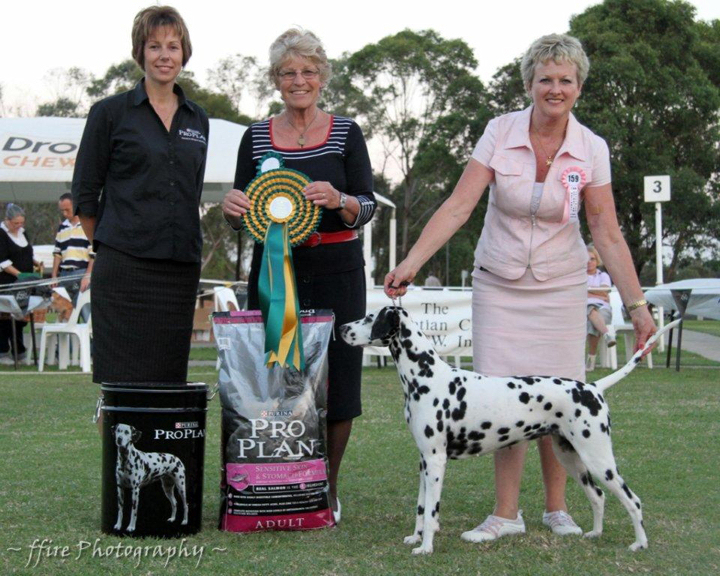 Ch Gentry Swept By Stars
Owned by Mr P Davies & Mr J & Mrs D Wright
Critique
It turned out to be a wonderful day the weather was hot and sunny around 28 degrees and I was more than pleased to receive such a very good entry of 220 Dalmatians which were 100% new to me. The setting was just outside Sydney with a large ring and nicely mown grass surrounded by marquees for the exhibitors and their dogs. It was a tight schedule and I was very ably assisted by my stewards Tony Tau and Gary Howie and the show Manager Russell Britten who I thank for their efficient running of the show. I considered it a privilege and an honour that exhibitors had travelled many miles across Australia to be at this show which is held every two years and travels around the country to different states; the next one will be held in Melbourne in 2012, and back in Sydney in another 10 years.

The atmosphere at the show was most enjoyable with everyone applauding my decisions in a very sporting manner. It became apparent that the standard in breed type and movement was high and you have at the top end a number of dogs which could compete successfully anywhere in the world and in several classes I was spoilt for choice and wished I had more Blue cards to hand out. Spotting on the whole was good and no high tails. There was no problem at all with coats and pigmentation except in a few cases. What did impress me were the correctly angulated shoulders, good depth of brisket and strong bone in so many exhibits. Only concern was that some dogs looked good standing but did not move soundly with the correct drive; but the majority were good movers as they had such good hindquarters and my main winners all showed the correct drive expected of the breed.

Not knowing any of the dogs it was most interesting to read my catalogue the next day and see I had awarded many prizes to dogs and bitches from the same lines which to me were of the correct breed type. The puppy classes were a delight to judge and numerically strong and all of them were so very promising so this looks well for the future of the breed.
The dog that excited me as much as any was the winner of the Australian Bred Dog class and my eventual Best in Show. A beautiful dog for which I see a very successful show career.

So for me a very pleasant day among friendly people with good dogs and I hope you enjoyed yourselves as much as I did. I wish you all success and happiness in the future as win or lose shows are meant to be enjoyed with your Dalmatians and thanks for an unforgettable day.
Special Veteran Sweepstakes 6 entries
GD CH Kirindal King Leopard - 10 ½ yr old liver evenly spotted dog. In excellent condition he certainly belies his age. Good round bone and tight feet. Moved on with confidence, correctly and soundly. Good reach of neck into level top line.

Ch Exchecka Etcetera - 10 yr old black spotted dog who put on a good performance. Good round ribcage. Handsome head and expression. Correctly set on tail. This 'handsome canine granddad' can certainly show some of the younger generations how to move and show – very sound- in lovely condition.

Ch Dumbledeer Gypsy Roamer CD - 12 ½ yr old black spotted bitch with very kind head. Lovely silky coat and condition for her age and moving on well today. Well let down hocks and good spring of pastern.
Neuter Sweepstakes 9 entries 3 absent
Ch Throdice in Fashion - Evenly marked black spotted bitch with smaller spots on tight coat. Stood foursquare. Kind head and expression and correct ear carriage. Strong muscular oblique shoulders and deep chest. Moved with drive from her well angulated hind quarters.

Gr Ch Dalmeadow Annie Laurie -Taller, nice type with evenly distributed black spots. Good depth of body. Lovely head with moderate amount of stop and dark eyes. Preferred the front angulations of the winner.

Lukius Above NBeyond - Attractive liver spotted bitch with good angulations. Pretty spotty facial expression. Correct shoulder angulations. Just moving a bit close behind today.
Baby Puppy Dog 3-6 months 7 entries
Paceaway Atrosemount - Plain headed and confident evenly marked black spotted boy with dark pigmentation. Good round bone to grow into and well balanced quarters. Really strong in his hindquarters with correct turn of stifle. Moved soundly for such a baby and really enjoying his day out. One to watch in the future as he is very promising. Best baby puppy in show.

Dumbledeer Zanziba Moon - 4 ½ month black spotted baby with nicely marked black spotting. Lovely head and dark eyes and dark pigmentation. Needs to fill out in body but has plenty of strong bone, nicely padded feet and has the correct balance and angulations to mature into. Carrying his tail a little high today and just needs time and experience to settle on the move

Dalsue the Final Flight - 4 month old shorter coupled black spotted puppy with attractive spotty face. Correct top line and tail set. Looked taller and did not have the depth of body or weight of the previous two but he is younger and in time they could change places.
Baby Puppy Bitch 3-6 months 8 entries 2 absent
Pampard Phasion N the Field - Very promising 4 ¾ month old striking black spotted baby bitch with old fashioned smaller spotting on clear coat. Feminine facial expression and dark eyes. Plenty of strong round bone to grow on and good turn of stifle with well let down hocks. Moved very soundly for such a baby with good drive. Extremely promising

Ozzispot Sinners N Shadows - Heavier marked 4 month old liver spotted baby with even spotting and feminine spotty face. Good front assembly. Correct length of tail. Strong round bone. Really enjoying her day out and moved freely and confidently from her well rounded hindquarters to win her placing.

Paceaway Rosebud -Boldly marked black spotted puppy with pretty plainer head. Well boned and good top line and tail set. At the moment she is not so well developed as the previous two in the hindquarters but given time could mature into a very striking bitch.
Minor Puppy Dog 5 entries 1 withdrawn
Starswept Bonnie Prince (AI) - Classy 7 month evenly marked black spotted puppy dog with dark eyes . Confident and friendly temperament. Moved on well by his handler with free flowing movement and good length of stride. Lovely type with good bone, correct quarters and well defined front angulations. Must have an extremely promising future. Best minor puppy in show.

Debtin Flyin Yamaha - 8 month longer cast black spotted puppy with nicely arched neck and attractive head. Well ribbed up and strong hindquarters. Preferred top-line of winner

Trudals Black Harley - Striking evenly marked black spotted dog with tight silky coat. Nicely balanced with good turn of stifle and bone to grow into. Correct slope of pastern and tight cat feet. Just not the confidence as the winner today but once he matures he could be a handsome chap.
Puppy Dog 4 entries 1 absent
Jendally Age of Aquarius - Attractive promising 11 month old nicely balanced black spotted puppy with handsome head framed by beautifully marked ears who showed with a lot of presence to win this class. Clear even spotting on tight white coat. Good depth of brisket. He really moved on well from his strong quarters and good hind angulations. Good slope of pasterns. Shows a lot of promise for the future. Very well handled on the day to best puppy in show by his competent owner.

Trudals Black Sabbath - Shorter coupled 11 month old puppy with even black spotting on smooth coat. Long tapering neck. Level top line and good tail set. Taller on the leg and just needs time to body up and carry more weight

Texico Isle B Cool (AI) -Sparsely spotted stronger 11 month old black spotted puppy with nice expressive spotty face and dark pigmentation. Well set on tail of good length. Just needs time to settle on the move. Still a little bit roly-poly as he was carrying his puppy fat today which he will lose as he matures. Coat not at its best at this time.
Junior Dog 11 entries
Ch Topspott Firebrand - Strong upstanding evenly spotted liver dog of correct colour. Super type with very handsome clean cut spotty face, correct stop and long tapering neck. Correctly balanced he stood four square and moved soundly and with the long striding action expected of the breed. Correct piston action from his well developed and muscled hindquarters. Good bone, front and chest and well sprung ribs. Well let down hocks. He stood out in the class as he is such quality and really put all in as he was in absolute harmony with his handler and well deserved his reserve CC and reserve best in show much to the thrill of the crowd.

Ozzispot Xtreme Addiktion - Smaller, compact, shorter coupled, evenly marked black spotted junior with tight cat feet who was correctly put together with good front angulations and good turn of stifle. Dark eyes and clean head with a lot of stop. Won his place because he moved correctly with good striding action and so soundly holding his top line. Good length of tail. A very close decision between the two but the slightly better head of 1 decided it for me.

Krystaway Weekend Hustler - Similar type to my first placing but not the depth of body. Well muscled, taller evenly spotted nice type of liver dog. Kind head and expression. Clear spotting on white coat. Strong hindquarters and correct angulations. Just did not drive on as well as the first two.
Intermediate Dog 13 entries 2 absent
Jendally Kiwi Encounter (IID) - Strong stallion type with a happy disposition. Well boned evenly marked liver spotted dog who impressed as he was so well muscled up with good depth of body, tight cat feet and well rounded hindquarters which he used to advantage in his balanced driving movement; he looked as though he could go all day.

Ch Dumbledeer Xeter - Shorter coupled, correctly balanced black spotted dog with dark eyes and pigmentation and handsome head. Dense tight coat. Held his top line on the move and strode out reasonably well. Good depth of brisket. Tight cat feet.

Ch Gentry Justa Rockstar - Black spotted dog with expressive head , dark eyes and correct ear carriage. I particularly liked his well angulated front and depth of brisket and tight rounded feet. Well let down hocks and good length of tail completed the picture.
Australian Bred Dog 22 entries
Ch Emerlyn Letme Entertainu -Super class won by a true carriage dog with evenly marked bold black spotting of the correct size with dark pigmentation. I liked his classic head and facial expression and dark eyes... Graceful arched neck into level top line. Really drove and moved on well with good length of stride from his muscled up quarters... This dog is beautifully balanced with good round bone and yet not exaggerated in any way. I liked his type and he put down a real challenge and gained the CC today helped by his sparkling performance in the final line up against some very strong contenders and then I had no hesitation in making him Best in Show

Ch Belnova Prince Regent - Strong evenly spotted liver dog with handsome facial expression. Well angulated front and good depth of chest. Good round bone and feet and correct turn of stifle. Not quite the drive of the winner on the day, but another lovely type of Dalmatian.

Ch Kirindal Kingpin - Strong black spotted dog with plenty of depth in body. Lovely head and expression and dark pigmentation and eyes. In hard firm condition he tracked on with good length of stride and correct piston action. Just preferred feet of my winner.
Open Dog 17 entries
Ch Dallaspots Kid Kermit - Another super class with lots of quality dogs competing for top honours. Striking black spotted dog with dark pigmentation on clear white coat. Kind handsome head and good ear placement. Correctly balanced with well set on tail he moved with drive from his well muscled quarters. I liked him a lot and he pushed the winners hard in the challenge.

Gr Ch Pampard Parisienne Prince - Soundly made taller evenly liver spotted dog with handsome facial expression. Shown in tip top condition on the day he also drove on well from his rounded hind quarters. Super type and carried the correct weight with good second thighs. Just cocked his head backwards in the final line-up which spoilt his top-line and cost him the class, but put in a really good performance helped by his capable handler and was just pepped at the post.

Ch Belnova Harry Potter - Litter brother to 2nd in the last class this dog also impressed me. Longer cast strong upstanding evenly spotted liver dog with long tapering neck and deep chest. Good turn of stifle and well let down hocks. He drove on well with good length of stride. Just preferred slope of pastern of winner but he has a lot of good attributes to pass on.
Veteran Dog 8 entries 1 absent
Ch Pokadot New Sensation ADX JDX - Nicely balanced, striking 7 yr old liver spotted dog shown in impressive hard firm condition for his age and striding out like a youngster. Stood four square with correct shoulder placement. Level top line and good tail set.

Gr Ch Dalridge Phantom Menace - Nearly 10 yr old black spotted dog that did everything right for his handler. Dark eyes. Well muscled he really could move driving hard with his hindquarters. Had a clear tight coat.

Ch Blairwick Arogan ET - 8 yr old shorter coupled nice looking black spotted dog with long tapering neck and good bone. Moved on well. Good top line held on the move. Just preferred eye colour of the previous two.
Minor Puppy Bitch
Visualimpact Dvine Chocolat - 6 month old evenly marked quite dark liver spotted puppy with pretty spotty face. Correct ear carriage and good reach of neck. Carried plenty of body and good strong bone to grow into. Excellent feet. Drove on soundly from her good width of stifle and well handled to win this strong class. Really nice type who should have a very good future and hope she learns to wag her tail in the ring.

Visualimpact Star Attraction - Litter sister to my winner and the same type with striking even black spotting and darkest of eyes. She has the same quality in quarters and they could change places many times. Two very promising puppies.

Texico Miss Izzy B (AI) - Longer cast, bigger liver spotted bitch with very attractive spotty face. Very sound conformation throughout which reflected in her movement as she drove on well helped by her handler.
Puppy Bitch 5 entries 2 absent
Paceaway Kule Kat - Evenly marked confident attractive black spotted puppy who is growing up fast and just needs time to body up as she has very good conformation and strong well rounded hindquarters and tight cat feet. Little unsettled on the move to begin with but once she took it seriously put in a good performance. Well done.

Paceaway Kit Kat - Litter sister to the winner and stronger in bone and the same type with spotty face. Heavier marked with well distributed liver spotting. Had very good hind angulations and well let down hocks. Drove on holding her top line and tail set. She should have won this class but was not happy being handled, but once she gains in confidence she should do well as she has super conformation.

Whytewood Im It and a Bit - Nicely marked black spotted bitch in super coat with very pretty head and long tapering neck. She was inclined to slope away in top-line but once she gains more muscle and strengthens in her hindquarters she will look more balanced.
Junior Bitch 11 entries 3 absent
Brewen Kandy Kar -I see from my catalogue that the first three placing in this class were all related being sired by the same dog. Strong boned young bitch that won this class with her sound effortless movement and correct angulations. Feminine head with dark eyes and pigmentation Good depth of brisket and well let down hocks. She really impressed me for type and I am sure will have a good future. Just not very happy when she came back in for the challenge.

Topspott Brandy Snap - Heavier marked taller liver spotted bitch that has the same attributes as my junior dog winner as he is her brother. Spotty face and kind facial expression she has super bone and conformation and such sound driving movement, she could not be ignored in this strong class.

Topspott Cherry Brandy - Beautifully marked liver spotted bitch, litter sister to second placing. Very pretty face. Has lots of quality and held her top line moving. Well let down hocks and strong rounded hindquarters and strong bone. Just needs to tighten up in front in order to beat her sisters. From a distance she stands out as she is very striking but coat needs to improve for her to take top honours.
Intermediate Bitch 21 entries 3 absent
Ch Paceaway Fairytales -Striking beautifully balanced black spotted feminine bitch with great presence. She has everything asked for in the standard and has to be 'gone over' to appreciate her great qualities. Very pretty head long tapering ears and dark pigmentation. Shown in tip top hard condition. Strong bone, tight cat feet and well sprung ribs. She really put all in and stayed the course to win the Reserve bitch CC

Hillofsilver Queenie - Another quality well constructed beautifully marked black spotted bitch which has the same sire as the winner of the last class and has all the same qualities. Super strong bone, hard feet and good hind angulations completed the picture. Very sound moving.

Ch Trudals Sweet Georgia Brown - Aptly named as she has such a gorgeous head and sweet expression. Longer cast evenly marked feminine liver spotted bitch of the correct colour; very pretty head and nice spotty ears. Strong bone and carrying a lot of substance she stood four square on her tight cat feet. Did everything right moving holding her top line and driving with good length of stride.
Australian Bred Bitch 18 entries 1 absent
Ch Gentry Swept by Stars - Happy and attentive black spotted bitch with very attractive facial expression and darkest of eyes. Full of substance and bone with good depth of brisket and shown in hard road going condition Held her top-line. Well muscled rounded hindquarters she used to drive round the ring. Her beautiful flowing correct movement gained her this first place in a very good class of quality exhibits.

Ch Dumbledeer Tinker Belle CCD - Strong upstanding striking black spotted bitch with most attractive pretty head and expression plus darkest of eyes and pigmentation. Super cat feet. She has very good conformation with strong bone, good front and well let down hocks she used to advantage when moving.

Lykatyga Wyld Streak - Another attractive Longer cast bitch with clear even black spotting. Good strong quarters. Correct head with nicely set on ears. Good front and correct shoulder placement. She stood four square and really drove on well from her strong well angulated hindquarters. Just preferred top line of my winner on the day but she has such good conformation she deserved her place.
Open Bitch 24 entries 3 absent
Ch Starswept Holiday Glitz - Someone said to me before I started judging that I had the cream of Australian dogs to judge today and this really strong class of quality exhibits reflected it. Won by this stylish black spotted bitch ; and I see she is from the same kennel as the winner of the last class; she put in an excellent performance to win and take home the bitch CC and best opposite sex in show. She is so well balanced with good bone and well muscled up quarters although the 'look' is still so feminine. Her movement was a joy to watch as she moved out accurately and with great verve and drive completely at one with her handler. Well done

Ch Hillofsilver Lillibet - Strong upstanding evenly marked attractive liver spotted bitch with good round bone and tight cat feet. I particularly liked her depth of body, strong quarters and the way she held her level top line moving. Good turn of stifle and well let down pasterns and hocks. I liked her a lot but she just lost out to the winner as she got a bit bored with the proceedings, but she will have her day as she has such a lot of quality. Aunty to the 2nd in Intermediate bitch.

Gr Ch Ozzispot Tyme to Shine JD SD AD - Longer cast striking evenly marked black spotted bitch with dark pigmentation and well marked attractive head and nicely set on ears. Really strong in all departments and excellent front assembly. Good round bone and strong well muscled up hindquarters and correct hocks she moved very soundly fore and aft and in profile. She is litter sister to the dog who won second in Junior and is exactly the same type.
Veteran Bitch 10 entries 3 absent
Gr Ch Starswept Balenciaga - I gave her this class because she really appealed to me with her feisty true Dalmatian character. 9 yr old. Dam of the winner of the last class this lovely evenly marked liver spotted bitch is outstanding in all departments. Shown in top condition with good muscle form she won the class with ease as she was the best mover here today. Has all the necessary bone and so beautifully balanced she is obviously passing on her qualities to her progeny as she was also the grand dam of my best minor puppy dog in show.

Ch Dumbledeer Magic Mandy - Coming up 10 this black spotted bitch still retains her elegance and really could show the young ones how to move. Lovely dark eyes, in pretty head and long tapering neck. She has such a sweet disposition and put in a good performance to win her place.

Exchecka Merri May - 9 yr old. Longer cast, evenly marked with bold black spotting this bitch was so well handled. Good front angulations. Plain pretty head with super dark eyes and pigmentation. Long tapering neck and held her top line. Could show the young ones how to do it as she was really using her hocks to drive on well from behind.