2013 Easter Results
The Dalmatian Club of NSW Inc
Specialty Championship Show
30th March 2013
Judge:- Mr Ron Besoff (NSW) of Swiftgait Dalmatians
Special Veteran Sweepstakes (1/1)
1. GR. CH. STARSWEPT BALENCIAGA (Davies/Wright)
Veteran Sweepstakes (3/6)
1. Gr Ch Starswept Just a Gigolo (Wright)
2. Ch Gemcourt Anadot Regal ET (Woiwade
3. Ch Arraglim Bella Brooklyn (Duncan)
Baby Dog (1/1)
1. Thunderspot Right Kind of Wrong (O'Brien)
Minor Puppy Dog (1/1)
1. Visualimpact Charlie Brown (McConachy)
Puppy Dog (2/2)
1. Texico Havn That Vintage Style (Godyn)
2. Visualimpact Diamond Inth Ruff (McConachy)
Junior Dog (3/3)
1. Telde Guns and Roses (Dunscombe)
2. Telde Naughty Choc Obsession (Lawson)
3. Sprintaway In Style by Design
Intermediate Dog (2/2)
1. Starswept Galileo (AI) - (Sullivan)
2. Ch Wanjdal Dare to Dream (McLean)
Aust Bred Dog (3/4)
1. Ch Starswept Iced Mocha (AI) - (Davies/Wright)
2. Sup Ch Krystaway Weekend Hustler (Harbin)
3. Ch Starswept Scottish Sovereign (AI) - Jones
Open Dog (4/4)
1. Sup ch Sprintaway Chief Cheroke (Donald)
2. Visualimpact Saffronrice (McConachy)
3. Ch Ozzispot Xtreme Addiktion (Irving)
Challenge Dog -Sup ch Sprintaway Chief Cheroke
Reserve Challenge Dog -Ch Starswept Iced Mocha (AI)
Open Neuter Dog (2/2)
1. Ch & Neut Ch Hillofsilver Phoenix (Collins)
2. Starswept Black Label (AI) - (Embury)

Neuter Challenge Dog:- Ch & Neut Ch Hillofsilver Phoenix
Reserve Neuter Challenge Dog:- Starswept Black Label (AI)
Baby Bitch (2/4)
1. Thunderspot Violets Are Blue (O'Brien)
2. Thunderspot One Way or Another (McLaughlin)
Minor Puppy Bitch (3/3)
1. Visualimpact Sparkling Diamond (McConachy)
2. Visualimpact Rubies N Diamonds (Lawson & McConachy)
3. Texico Miss Joker B (Godyn)
Puppy Bitch (0/1)

Junior Bitch (4/4)
1. Paceaway Sabari (Donald)
2. Telde Naughty But Delightful (Lawson)
3. Wanjdal Smoke N Mirrors (McLean)
Intermediate Bitch (4/5)
1. Ozzispot On Th Edge Of Glory (AI) - (Irving)
2. Ch Sprintaway Shakiera (Donald)
3. Telde Mischievous Kiss (Lawson)
Aust Bred Bitch (6/7)
1. Sup Ch Ozzispot Tyme to Shine GD SDX SPD JDM ADM (Irving)
2. Ch Starswept Glamour Of Sydney (AI) - (Davies/Wright)
3. Ch Visualimpact Star Attraction (McConachy)
4. Gr Ch Lukius Solar Flare ET (Woiwade)
Open Bitch (4/6)
1. Ch Ozzispot Sinners N Shadows (Irving)
2. Sup Ch Hillofsilver Paparazzi (Harbin)
3. Gr Ch Hillofsilver Lillibet (Johnson)
Challenge Bitch -Ch Ozzispot Sinners N Shadows
Reserve Challenge Bitch -Sup Ch Ozzispot Tyme to Shine GD SDX SPD JDM ADM
Open Neuter Bitch (3/3)
1. Starswept Southern Cross (Davies/Wright)
2. Ch Gemcourt Anadot Regal ET (Woiwade)
3. Ch Dimadal Ella Enchanted ET (Schrumpf)

Neuter Challenge Bitch:- Starswept Southern Cross
Reserve Neuter Challenge Bitch:- Ch Gemcourt Anadot Regal ET
Best In Show - Sup Ch Sprintaway Chief Cheroke
Runner Up Best in Show - Ch Ozzispot Sinners N Shadows
Baby Puppy in Show:- Thunderspot Right Kind of Wrong

Minor Puppy in Show:- Visualimpact Charlie Brown

Puppy In Show:- Texico Havn That Vintage Style

Junior in Show:- Paceaway Sabari

Intermediate in Show:- Starswept Galileo (AI)

Australian Bred in Show:- Ch Starswept Iced Mocha (AI)

Open in Show:- Sup ch Sprintaway Chief Cheroke

Neuter In Show:- Starswept Southern Cross
Best In Show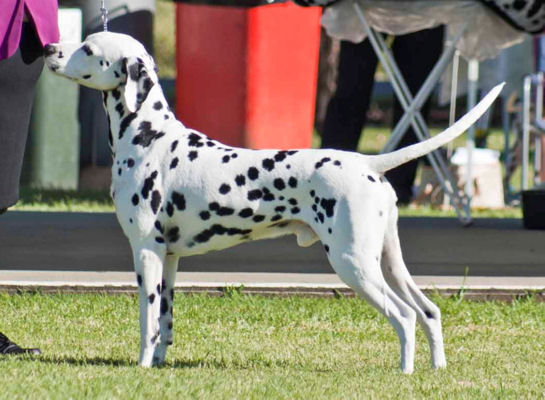 Sup Ch Sprintaway Chief Cheroke
Owned by Mr M & Mrs L Donald
Also Dog Challenge & Open in Show



Runner Up Best In Show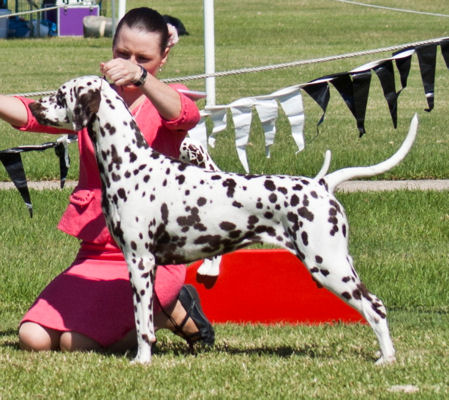 Ch Ozzispot Sinners N Shadows
Owned by Mr T & Mrs S Irving
Also Bitch Challenge & Opp Open In Show
Reserve Dog Challenge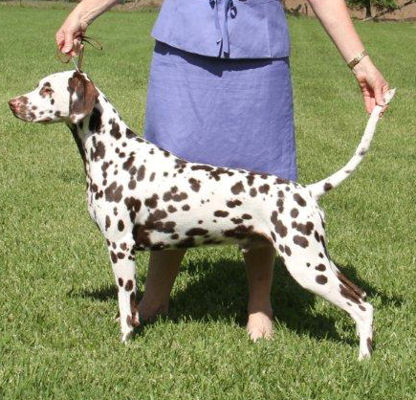 Ch Starswept Iced Mocha (AI)
Owned by Mr P Davies & Mr J & Mrs D Wright

Reserve Bitch Challenge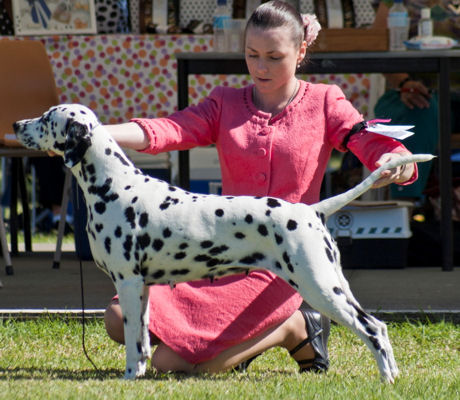 Sup Ch Ozzispot Tyme To Shine GD SDX SPD JDM ADM
Owned by Mr T & Mrs S Irving
Baby Puppy In Show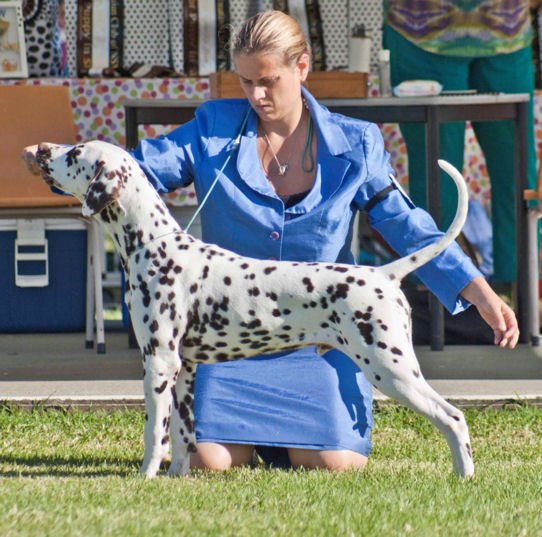 Thunderspot Right Kind of Wrong
Owned by Ms M O'brien
Opposite Baby Puppy In Show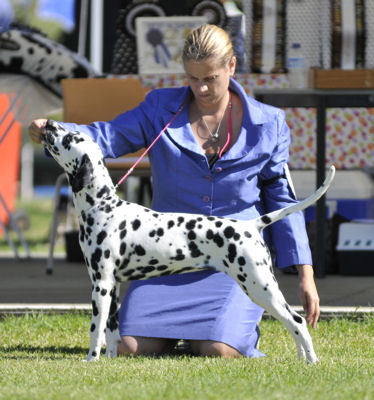 Thunderspot Violets Are Blue
Owned by Ms M O'brien
Minor Puppy In Show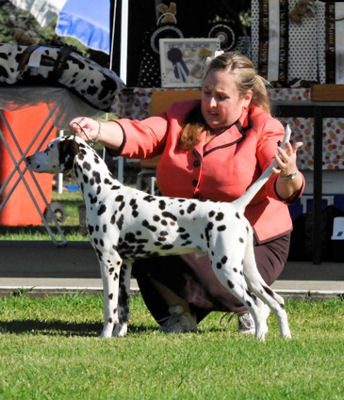 Visualimpact Charlie Brown
Owned by Mr M & Mrs E McConachy
Opposite Minor Puppy In Show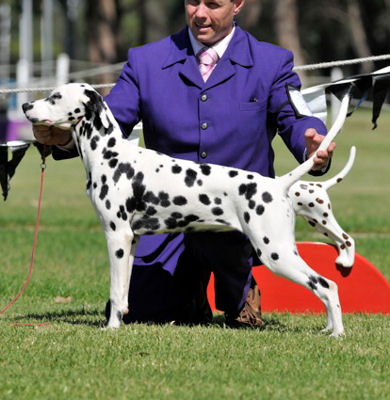 Visualimpact Sparkling Diamond
Owned by Mr M & Mrs E McConachy



Puppy In Show
Texico Havn That Vintage Style
Owned by Mrs A Godyn
Junior In Show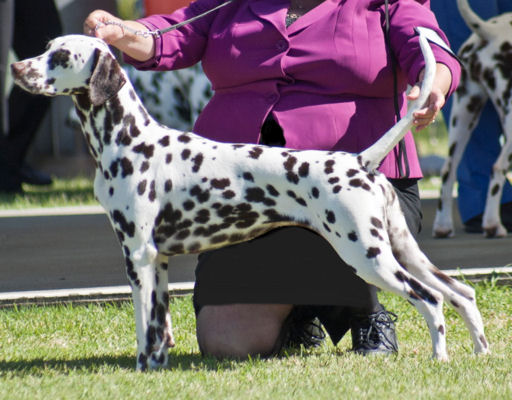 Paceaway Sabari
Owned by Mr M & Mrs L Donald
Opposite Junior In Show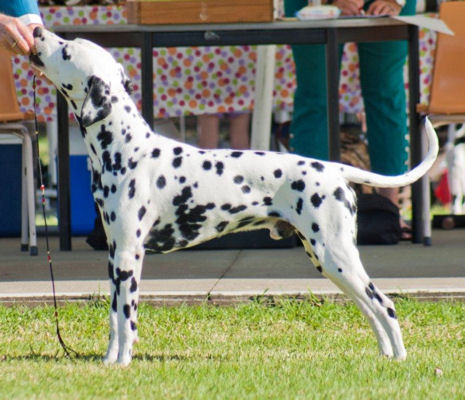 Telde Guns And Roses
Owned by Mr M Dunscombe



Intermediate In Show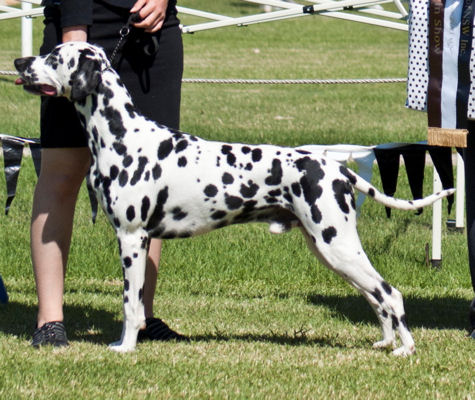 Starswept Galileo (AI)
Owned by Mr C & Mrs K Sullivan
Opposite Intermediate In Show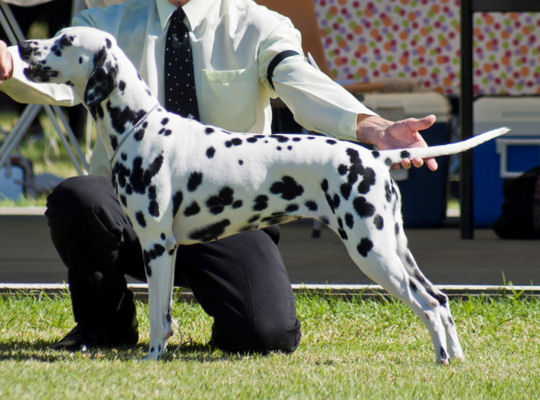 Ozzispot On th Edge Of Glory (AI)
Owned by Mr T & Mrs S Irving
Australian Bred In Show

Ch Starswept Iced Mocha (AI)
Owned by Mr P Davies & Mr J & Mrs D Wright
Opposite Australian Bred In Show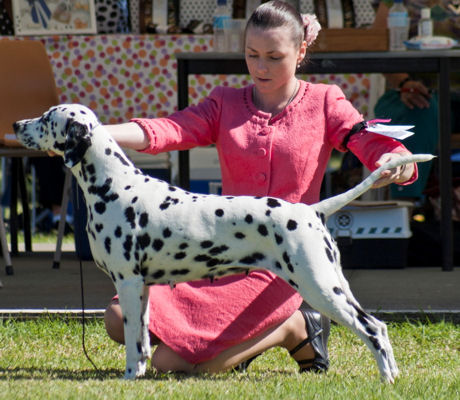 Sup Ch Ozzispot Tyme To Shine GD SDX SPD JDM ADM
Owned by Mr T & Mrs S Irving



Open In Show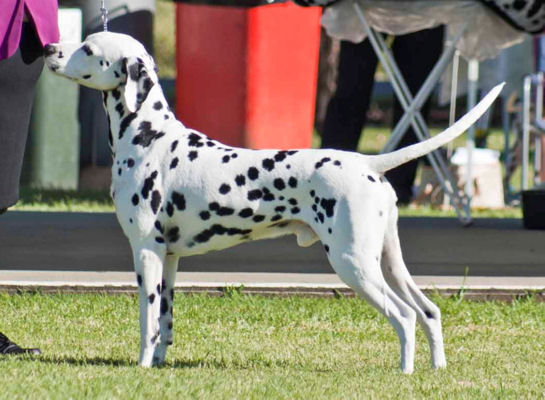 Sup Ch Sprintaway Chief Cheroke
Owned by Mr M & Mrs L Donald
Opposite Open In Show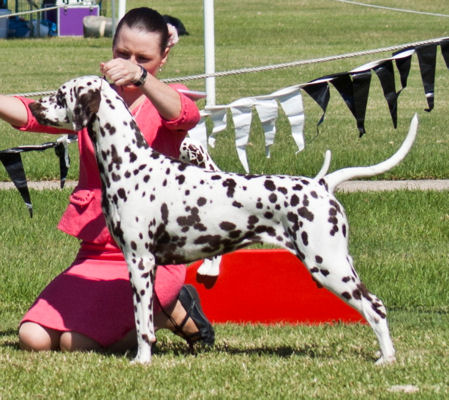 Ch Ozzispot Sinners N Shadows
Owned by Mr T & Mrs S Irving



Veteran In Show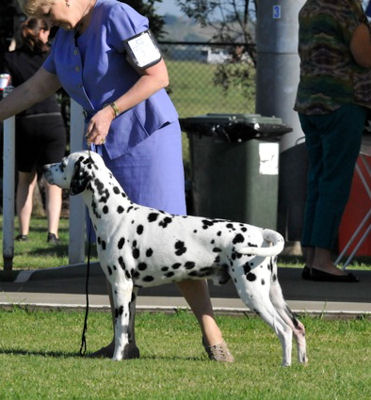 Gr Ch Starswept Justa Gigolo
Owned by Mr P Davies & Mr J & Mrs D Wright
Special Veteran In Show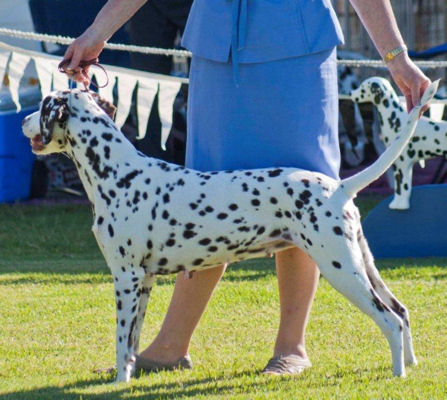 Gr Ch Starswept Balenciaga
Owned by Mr P Davies & Mr J & Mrs D Wright



Neuter In Show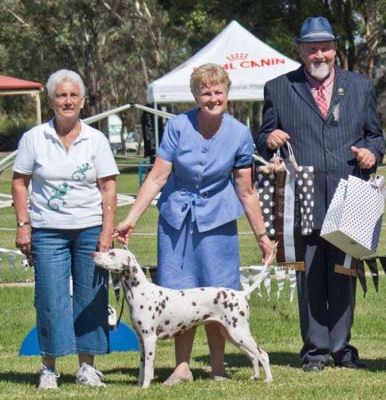 Starswept Southern Cross
Owned by Mrs A Robertson
Opposite Neuter In Show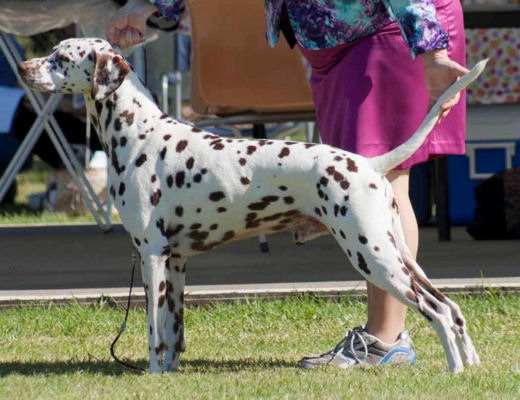 Ch & Neut Ch Hillofsilver Phoenix
Owned by Miss A Collins
Critique
Many thanks to all exhibitors for their wonderful entry and to club officers for all their hard work. It was a most enjoyable day of judging and the atmosphere was friendly and sporting culminating in a fantastic entry of young handlers, parents, friends and their dogs into the ring. Not to be outdone by this was the food and frivolity that followed with a chocolate wheel to boot just in case you had missed out on a prize. The club is certainly back to promoting the breed and fellowship amongst its members. The overall quality of exhibits was good and they were well presented. One reminder that an outgoing temperament is an outstanding part of our breed and a number of well made exhibits did not do as well as they could had they been more outgoing. Preserving our dogs friendly outgoing temperament is absolutely important for our breed to retain its character and status in the dog world.
SPECIAL VETERAN SWEEPSTAKES
1. GR CH STARSWEPT BALENCIAGA
Quality liver of outstanding type and style shown in excellent condition for her age, gorgeous head and expression, good eye colour, moved well.
VETERAN SWEEPSTAKES
1. GR CH STARSWEPT JUST A GIGOLO
Showy black with excellent spotting, pleasing head and expression, correct front and tight feet, showed and handled to perfection, moved freely round the ring with good length of stride.
2. CH GEMCOURT ANADOT REGAL ET
Attractive liver, with pleasing head and expression, good top line and tail carriage, moved with purpose and showed well.
3. CH ARRAGLIM BELLA BROOKLYN
Well made liver bitch of good proportions. Carrying a little too much weight and was not happy showing on the day
BABY PUPPY DOG
1. & Baby in Show
THUNDERSPOT RIGHT KINDOF WRONG
Well decorated,strongly made young dog with pleasing head and expression, elegant make and shape, showed well, moved round the ring with lovely free movement.
CLASS 2 MINOR PUPPY DOG
1. & Minor in Show
VISUALIMPACT CHARLIE BROWN
Well spotted puppy with plenty of bone, coat in excellent condition, well muscled hind quarters and correct tail carriage, moved soundly
CLASS 3 PUPPY DOG
1. & Puppy in Show
TEXICO HAVN THAT VINTAGE STYLE
Well made young dog of excellent type spoilt by shy attitude in the ring
2. VISUALIMPACT DIAMOND INTH RUFF
Well spotted liver dog of good overall shape and make but movement very restricted.
CLASS 4 JUNIOR DOG
1. TELDE GUNS AND ROSES
Handsome black spotted dog, with good all over conformation, good front, neck and top line. Strong hindquarters and good tail set. Movement free as his conformation indicated.
2. TELDE NAUGHTY CHOC OBSESSION
Well presented liver, good colour, lovely head and expression, covered the ground well, good make and shape, correct tail set, did not move as well as first dog
3. SPRINTAWAY IN STYLE BY DESIGN
Well spotted dog of good overall type. Movement a little uncoordinated.Presented well.
CLASS 5 INTERMEDIATE DOG
1. & Intermediate in Show
STARSWEPT GALILEO (AI)
Very showy balanced black, with good head, neck and shoulders.Markings a little on large size but great pigmentation.In sparkling condition won this class easily on his movement
2. CH WANJDAL DARE TO DREAM
Good black spotting, attractive head and expression, good front, and feet. Moved and showed well.

CLASS 10 AUSTRALIAN BRED DOG
1. & Reserve CC Aust Bred in show
CH STARSWEPT ICED MOCHA (AI)
Quality dog, his strong liver spotting really gleamed in the sunlight, showing & moving well, a very good specimen of the breed.
2. SUP CH KRYSTAWAY WEEKEND HUSTLER
Attractive liver, good overall make and shape but coat not in the best of condition. Lacking in shoulder angulation and needs more spring of rib. Moved loose in front and close behind. Presented very well.
3. CH STARSWEPT SCOTTISH SOVEREIGN (AI)
Attractively marked larger dog strongly made but lacking the angulation required to move out
CLASS 11 OPEN DOG
1. CC & Best in Show
SUP CH SPRINTAWAY CHIEF CHEROKE
Smart dog superb spotting with good balance, type & proportions, loved his head & eye. Great reach of neck, sound in body & quarters, excellent carriage on the move with good action. Showed very well
2. VISUALIMPACT SAFFRONRICE
Tall black spotted dog of excellent type with good front and depth of brisket, a bit heavy over the shoulders, but moved and showed well.
3. CH OZZISPOT XTREME ADDIKTION
Well presented and nicely decorated in immaculate condition, good legs and feet, well angulated hind quarters. Slightly low set tail spoilt the overall outline and lacked drive and extension in movement
OPEN NEUTER DOG
1. & Neuter CC
CH NEUT CH HILLOFSILVER PHOENIX
Nicely spotted liver, good colour, happy disposition, lovely make and shape
2. & Neuter RCC
STARSWEPT BLACK LABEL (AI)
Larger dog with strong pigmentation and lovely white coat.
CLASS 1A BABY PUPPY BITCH
1. THUNDERSPOT VIOLETS ARE BLUE
Heavily decorated black, gorgeous head with the darkest of eyes. Excellent overall make and shape, and sound mover
2. THUNDERSPOT ONE WAY OR ANOTHER
Lighter marked liver bitch of good shape and make. Lacked a little in animation on the move
CLASS 2A MINOR PUPPY BITCH
1. VISUALIMPACT SPARKLING DIAMOND
Smart well decorated bitch with elegant head, lovely reach of neck, good lay of shoulder, correct front, and tight feet. Moved with plenty of drive, well handled
2. VISUALIMPACT RUBIES N DIAMONDS
Heavier spotting but excellent pigmentation, pretty feminehead and expression, correct front and lovely reach of neck, strong legs and tight cat feet. Level top line, and good turn of stifle. Movement round not as good as 1st placegetter
3. TEXICO MISS JOKER B
Black more heavily spotted feminine bitch, with good overall shape and make, good head, excellent eye colour with nice length of neck, correct front. Did not move with spirit or animation
CLASS 4A JUNIOR BITCH
1. & Junior in show
PACEAWAY SABARI
Promising liver, lovely feminine head and expression. Good reach of neck and front, soundly made throughout, superbly handled and moved well. Still a little immature
2. TELDE NAUGHTY BUT DELIGHTFUL
Strongly made liver bitch of excellent shape and make. Well angulated shoulders and soundly made hindquarters.Moved with purpose and drive.
3. WANJDAL SMOKE N MIRRORS
Well proportioned, feminine with good black spotting. Plenty of bone, and good overall make and shape. Moved without animation.
CLASS 5A INTERMEDIATE BITCH
1. OZZISPOT ON TH EDGE OF GLORY (AI)
Attractive black, shown in tip top condition, moved soundly with good hind action, from well developed hind quarters.
2. CH SPRINTAWAY SHAKIERA
Attractively spotted with very pretty head, good overall make and shape, and in great condition. Disappointed as she could be a lot better if she showed herself. Moved round the ring with plenty of drive
3. TELDE MISCHIEVOUS KISS
A lighter marked bitch of good overall shape and make but did not move with animation or purpose.
CLASS 10A AUSTRALIAN BRED BITCH
1. Reserve CC
SUP CH OZZISPOT TYME TO SHINE GD SDX SPD JDM ADM
Feminine lovely spotted bitch in superb condition, gorgeous head and expression, good bone, with excellent front and feet. Good level top line and turn of stifle. Really covered the ground on the move, well handled
2. CH STARSWEPT GLAMOUR OF SYDNEY (AI)
Top quality bitch well spotted in excellent condition, good head and dark eye, well off for bone. Good top line, tail carriage and powerful hind quarters. Moved without animation and was not enjoying the day.
3. CH VISUALIMPACT STAR ATTRACTION
Lightly spotted bitch with excellent pigmentation, good head and reach of neck, correct round bone, slightly low tail set. Moved steadily around the ring maintaining topline but lacked attitude and laid back on handler spoiling overall outline.
4. GR CH LUKIUS SOLAR FLARE ET
Spotty liver with some ticking in coat, still a quality bitch with great shape and make. Well angulated shoulders and soundly made hindquarters. Would just like to see a little more substance.Shown to perfection.
CLASS 11A OPEN BITCH
1. Bitch CC RUBIS
CH OZZISPOT SINNERS N SHADOWS
A Beautiful liver bitch with great overall shape and make. Strong head excellent front and good reach of neck, and shown in immaculate condition. Moved effortlessly round the ring, looked as if she could go all day.
2. SUP CH HILLOFSILVER PAPARAZZI
Smaller bitch with finer bone and proportions. Spotting well distributed but lacking in depth of colour. Movement fast, but a restricted fore and aft. Not as well angulated as winner.
3. GR CH HILLOFSILVER LILLIBET
Quality liver, good colour, pretty head and dark eyes.liked her overall make and shape. Moved soundlybut lacked the fire of the younger bitches
4. CH COASTDAL PRINCESS LILLY ROSE
A lightly marked liver bitch of good overall shape and make. Shown well.
OPEN NEUTER BITCH
1. Neuter CC Neuter in Show
STARSWEPT SOUTHERN CROSS
A lightly marked liver of good overall shape and make
2. Neuter Reserve CC
CH GEMCOURT ANADOT REGAL ET
Strongly made liver bitch of good shape and make did not move as well as winner
3. CH DIMADAL ELLA ENCHANTED ET
Smaller bitch of good proportions. Shown well

Ron Besoff