2012 Easter Results - 1
Easter Championship Show 2012
Friday, 6th April 2012
Judge: Ms M Mullholland (UK)
Mariscat Dalmatians
Total Entry: 64
Special Veteran Sweepstakes (2/3)
1. Gr Ch Starswept Balenciaga - PJ Davies/ J & D Wright
2. Ch Dumbledeer Magic Mandy - R, M & P Young
Veteran Sweepstakes (3/3)
1. Ch Dumbledeer Tinker Belle CCD - R, M & P Young
2. Ch Hillofsilver Lazer - Dr N. Doong
3. Ch Dallydom Canopus ET - G & A Brown

Baby Dog (4/5)
1. Krystaway Hitme With Urbest Spot - R & D Harbin *
2. Telde Rosewood - Atkinson/Leys J &S
3. Telde Guns and Roses - M.D. Dunscombe
4. Krystaway Keep Your Spots On - R & D Harbin
Minor Puppy Dog (1/2)
1. Starswept Iced Mocha (AI) - PJ Davies/ J & D Wright *

Puppy Dog (1/1)
1. Krystaway Minister of Magic - M. Thompson

Junior Dog (2/4)
1. Ch Topspott Rosebank At Paceaway (AI) - FEL Mathews
2. Starswept Galileo (AI) - C & K Sullivan

Intermediate Dog (3/3)
1. Dallydom Digger - G & A Brown *
2. Gr Ch Krystaway Weekend Hustler - R & D Harbin
3. Pampard Ponte Vechio - I & J & S Marshall

Aust Bred Dog (3/4)
1. Ch Paceaway Kold Kash - P & L Dyer
2. Gr Ch Krystaway Dream Catcher - L & M Donald
3. Ch Gentry Justa Rockstar - A M Godyn

Open Dog (6/6)
1. Gr Ch Paceaway At Rosemount - FEL Mathews/ G Vernon/ R & D Besoff *
2. Ch Dumbledeer U Dared Me CCD - R & M & P Young
3 Gr Ch Sprintaway Chief Cheroke - L & M Donald


Challenge Dog - Gr Ch Paceaway At Rosemount
Reserve Challenge Dog - Ch Dumbledeer U Dared Me CCD

Open Neuter Dog (2/2)
1. Ch Dumbledeer Sunspark CD R & M & P Young
2. Ch/Neut Ch Hillofsilver Phoenix A Collins



Baby Bitch (0/1)
Minor Puppy Bitch (1/1)
1. Starswept Mochachococino (AI) - C & K Sullivan
Puppy Bitch (2/2)
1. Pampard Planet Hollywood - I & J & S Marshall *
2. Starswept Glitz And Glamour (AI) - PJ Davies/ J & D Wright

Junior Bitch (3/5)
1. Dumbledeer Aesturias - R & M & P Young *
2. Paceaway Gosh Im Flash - P & L Dyer
3. Sprintaway Spotlight In Paris - L & M Donald
Intermediate Bitch (5/7)
1. Ch Sprintaway Shakiera - L & M Donald
2. Visualimpact Divine Chocolat - E & M McConachy
3. Ch Topspott Team Sky - FEL Mathews

Aust Bred Bitch (8/9)
1. Ch Visualimpact Star Attraction - E & M Mc Conachy *
2. Ch Gentry Swept By Stars - PJ Davies/ J & D Wright
3. Coastdal Princess Lily Rose - M O'Brien
Open Bitch (3/3)
1. Ch Hillofsilver Lillibet - D Johnson
2. Ch Gemcourt Playz With Fire - I & J & S Marshall
3. Ch Starswept Holiday Glitz - PJ Davies/ J & D Wright

Challenge Bitch - Ch Hillofsilver Lillibet
Reserve Challenge Bitch - Pampard Planet Hollywood
Open Neuter Bitch (1/1)
1. Starswept Southern Cross - Mrs A Robertson

Best In Show - Gr Ch Paceaway At Rosemount
Runner Up Best in Show - Ch Hillofsilver Lillibet
Best Baby in Show - Krystaway Hitme With Urbest Spot
Opposite Baby in Show -No Opposite
Best Minor Puppy in Show - Starswept Iced Mocha (AI)
Opposite Minor Puppy in Show -Starswept Mochachococino (AI)

Best Puppy in Show -Pampard Planet Hollywood
Opposite Puppy in Show -Krystaway Minister of Magic

Best Junior in Show - Dumbledeer Aesturias
Opposite Junior in Show - Ch Topspott Rosebank At Paceaway (AI)

Best Intermediate in Show - Dallydom Digger
Opposite Intermediate in Show - Ch Sprintaway Shakiera

Best Aust Bred in Show - Ch Visualimpact Star Attraction
Opposite Aust Bred in Show - Ch Paceaway Kold Kash

Best Open in Show - Gr Ch Paceaway At Rosemount
Opposite Open in Show - Ch Hillofsilver Lillibet

Best Neuter in Show -Starswept Southern Cross
Opposite Open Neuter in Show -Ch Dumbledeer Sunspark CD
Best In Show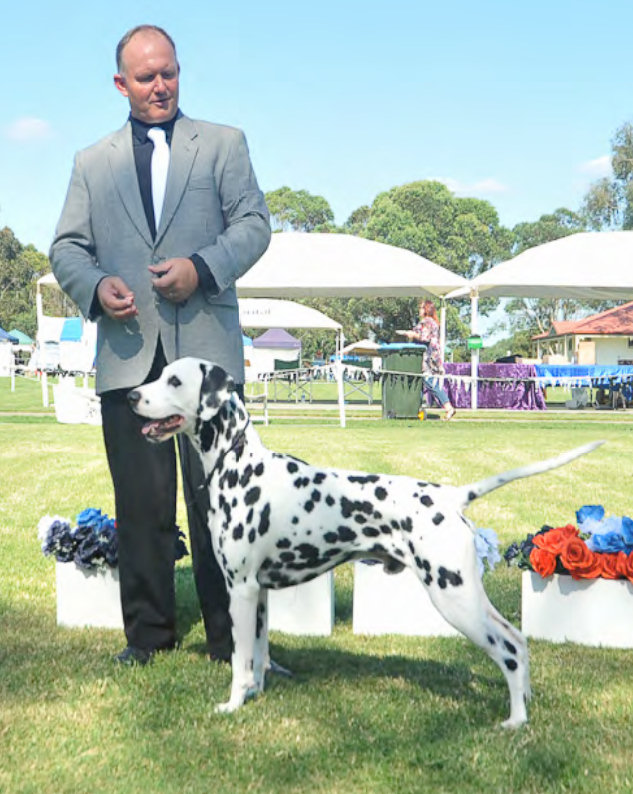 Gr Ch Paceaway At Rosemount
Owned by FEL Mathews/ G Vernon/ R & D Besoff
Also Dog Challenge & Open in Show



Runner Up Best In Show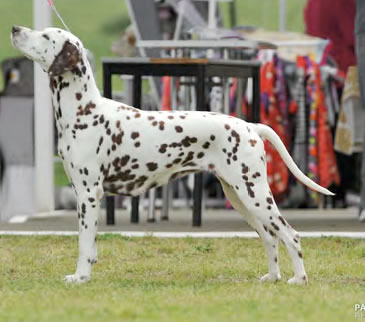 Ch Hillofsilver Lillibet
Owned by Mr D Johnson
Also Bitch Challenge & Opposite Open In Show
Reserve Dog Challenge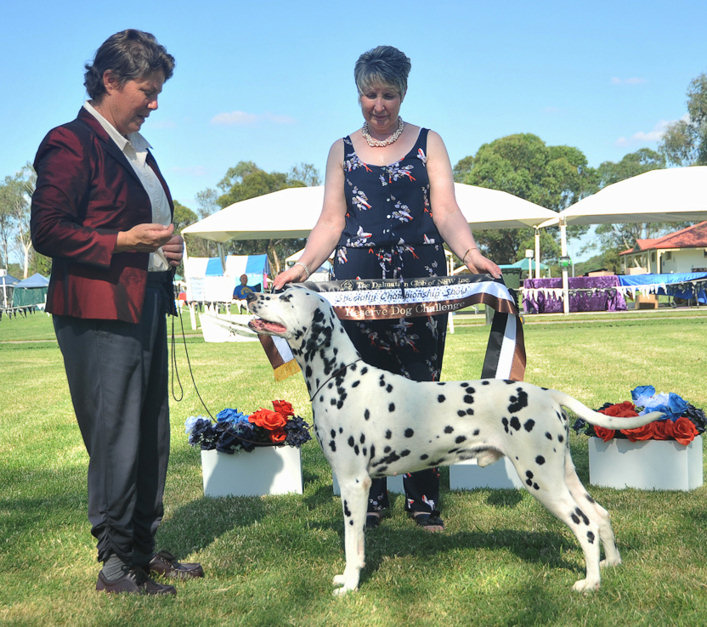 Ch Dumbledeer U Dared Me CCD
Owned by R & M & P Young

Reserve Bitch Challenge
Pampard Planet Hollywood
Owned by I & J & S Marshall
Baby Puppy In Show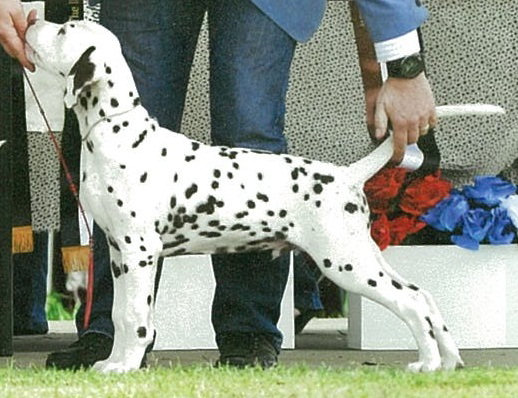 Krystaway Hitme With Urbest Spot
Owned by Mr R & Mrs D Harbin
Minor Puppy In Show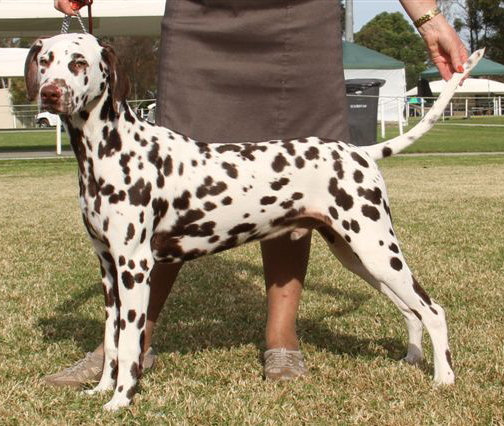 Starswept Iced Mocha (AI)
Owned by PJ Davies/ J & D Wright
Opposite Minor Puppy In Show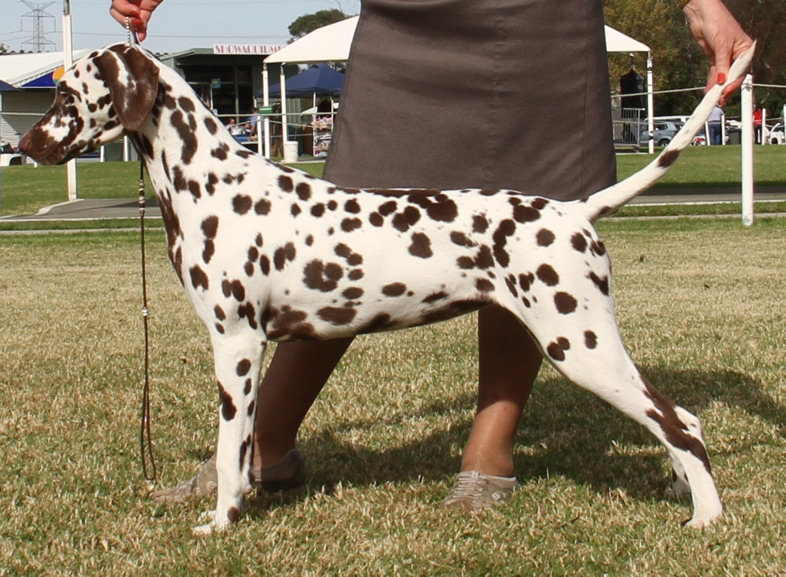 Starswept Mochachococino (AI)
Owned by C & K Sullivan



Puppy In Show
Pampard Planet Hollywood
Owned by I & J & S Marshall
Junior In Show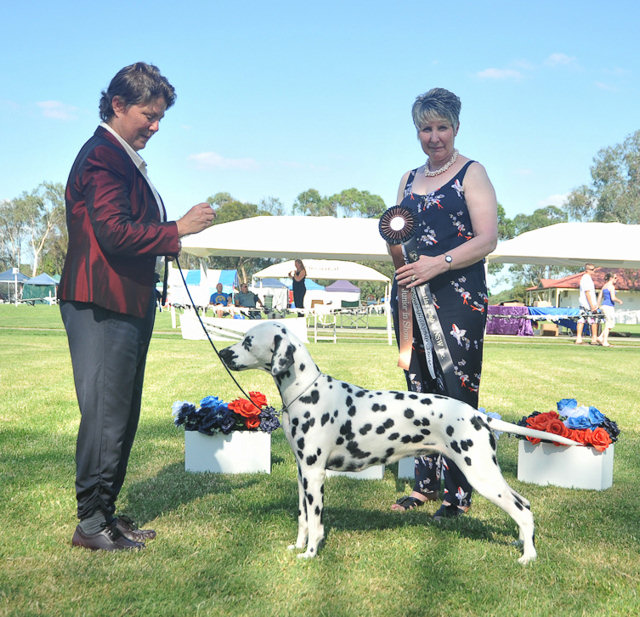 Dumbledeer Aesturias
Owned by Mr R, Mrs M & Ms P Young



Intermediate In Show
Dallydom Digger
Owned by Mr G & Mrs A Brown
Australian Bred In Show
Ch Visualimpact Star Attraction
Owned by Mr M & Mrs E McConachy
Opposite Australian Bred In Show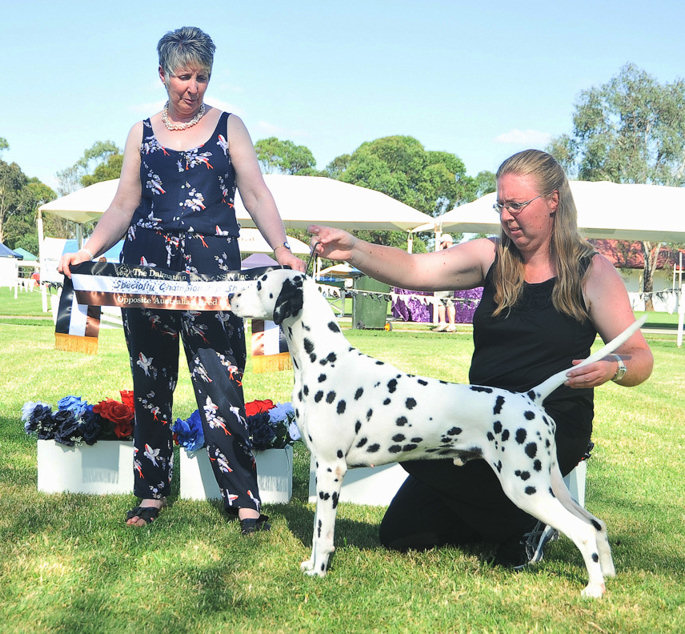 Gr Ch Paceaway Kold Kash
Owned by P & L Dyer



Open In Show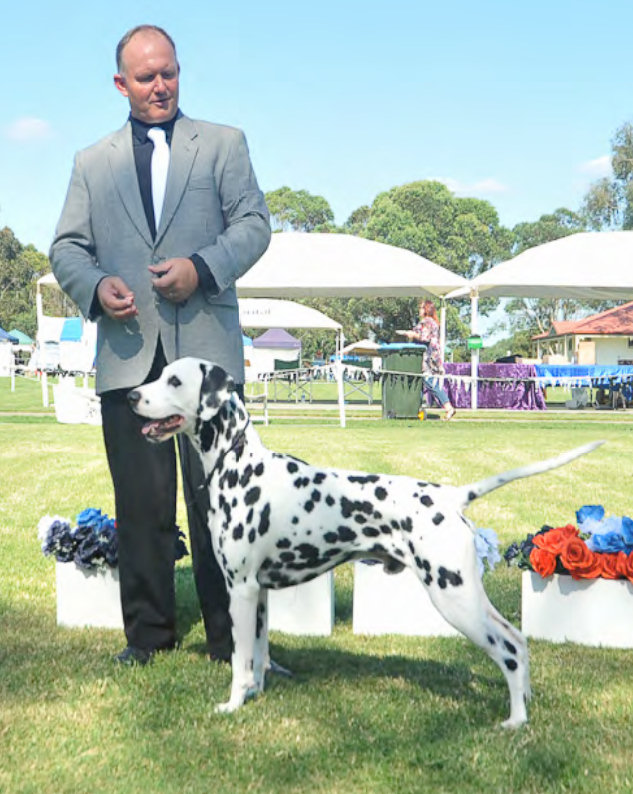 Gr Ch Paceaway At Rosemount
Owned by FEL Mathews/ G Vernon/ R & D Besoff



Veteran In Show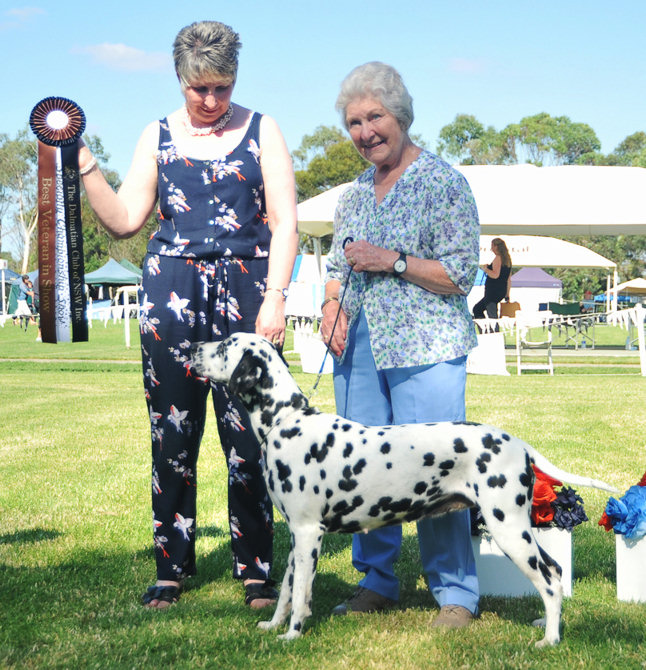 Ch Dumbledeer Tinker Belle CCD
Owned by R, M & P Young



Neuter In Show
Starswept Southern Cross
Owned by Mrs A Robertson
Opposite Neuter In Show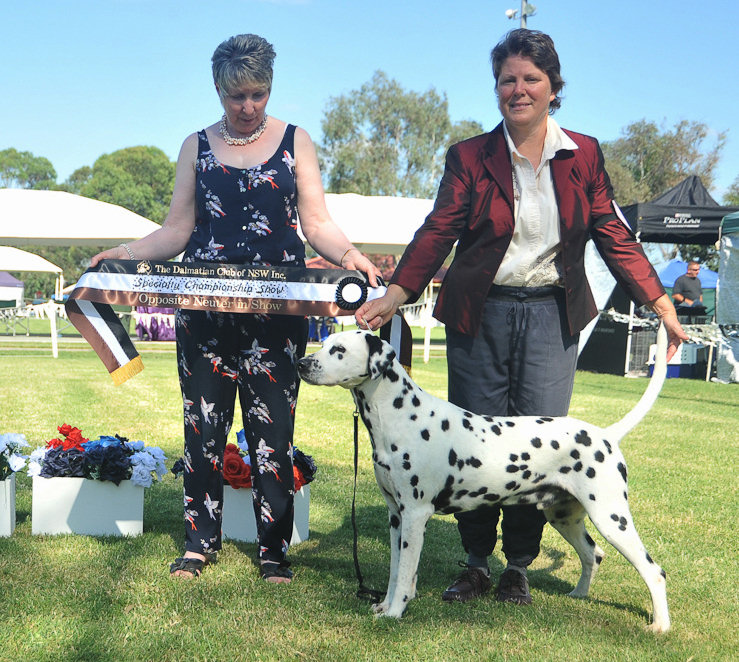 Ch Dumbledeer Sunspark CD
Owned by R & M & P Young
Critique
My thanks to the hardworking Committee for such a well organised and run show, and for inviting me to their wonderful country to judge. Keith and I had a great time and the hospitality everywhere has been more than we could have ever expected.
If my entry was representative then I believe that your Dals are in very good shape. Heads were very pleasing, temperament was great, and I was delighted with the overall consistency of breed type. My biggest criticism is too many short upper arms, reducing the ability to reach out in front.
Nevertheless I was thrilled with my entry, although would have liked a slightly cooler day!
Special Vet Sweepstakes
1 Davies & Wright's Gr Ch Starswept Balenciaga, Liver of quality, ageing gracefully, still sound and balanced with a very classic head dark amber eye and melting expression, good deep rib, sound and effortless movement.

2 Young's Ch Dumbledeer Magic Mandy, black, very sound and feminine, lovely arched neck into well laid shoulder. Good dark eye. Well of for bone and substance and sound on the move.

Veteran Sweepstakes
1 Young's Ch Dumbledeer Timkerbelle, black, elegant, deep rib and level topline, well off for bone, and well made through-out, sound on the move.

2 Doong's Ch Hillofsilver Lazer, black male of substance and spectacular spotting, lovely dark eye with good expression, good for size and quite sound on the move.

3 Brown's Ch Dallydom Canopus ET, liver with a really good outline, scored in head and eye, correct deep rib and forechest, very handsome dog, unfortunately was a bit lame today.

Baby Puppy Dog
We don't have this class in the UK and although adorable found it difficult to judge 12 week olds against 20 week olds, as they are at very different stages of development.
1 Harbin's Krystaway Hitme With Urbest Spot, liver baby of such promise, definitely has the looks and the spotting at this age, do hope he fulfils his early promise.

2 Atkinson & Leys's Telde Rosewood, 5 months, black, tall and leggy at present, but well off for bone and substance , head looks promising, and moved well.

3 Dunscombe's Telde Guns and Roses, litter brother to 2, very similar in type and size, but not just as far on in his development. Moved well.

Minor Puppy Dog
1 Davies & Wright's Starswept Iced Mocha. 7months very elegant and sound liver boy, very pleasing in head with a super dark amber eye of correct shape. Well off for bone and good cat feet, deep chest and well ribbed back, level topline and well carried tail, moved well, one to watch.

Puppy Dog
1 Thompson's Krystaways Minister of Magic, Well marked black youngster, with good angles fore and aft, head needs to fine down and eye needs to darken, sound on the move.
Junior Dog
1 Matthews Ch Topspott Rosebankatpaceaway, really like this black dogs breed type, handsome and elegant, with lovely markings and a good dark eye, well set and carried tail. Felt he was just a bit short in upper arm and therefore didn't reach out in front as much as I would have liked.

2 Sullivan's Starswept Galileo, Black, not the head or style of 1. Forward placed front and dipped behind shoulders, good dark eye and expression.

Intermediate Dog
1 Brown's Dallydom Digger, Good size black, plenty of substance, would like a better shaped head, has good dark eye and correct ear carriage, sound but not showing much reach or drive.

2 Harbin's Gr Ch Krystaway Weekend Hustler, attractive liver of good colour, scored in head and ear forward placed front and lacked dept of rib, another who is sound but not really going anywhere because of his lack of reach.

3 Marshall's Pampard Ponte Vecchio, Strong liver with masculine head, lovely arched neck, good bone and feet, he has a good deep rib but tends to fall away behind the shoulder.

Australian Bred Dog
1 Dyer's Ch Paceaway Kold Kash, very attractive and masculine, scored in head and eye, well marked black, quite balanced with lovely rear and tail, but bit short in upper arm.

2 Donald's Gr Ch Krystaway Dream Catcher, bigger all through from 1 attractive head and eye and ear, very pronounced dip behind the shoulders.

3 Godyn's Ch Gentry Justa Rockstar, attractively marked, bit feminine in head and has a forward placed front that makes his movement less than satisfactory.

Open Dog
1 Matthews/ Vernon/Besoff's Gr Ch Paceaway at Rosemount, Dog CC & BIS, Black with everything going for him ,all quality, well balanced throughout grand head, dark eye with super expression, used his ears so well which sets off his head to perfection. Arched neck into very best of
shoulder placement, deep and lengthy rib, level topline and well carried tail, well off for bone and substance. He moves so free and effortlessly, could watch him all day, he also possesses that really elusive"show presence" and it is obvious that he just loves to be in the ring, really impressive dog and I love his "ghost" face.

2 Young's Ch Dumbledeer U Dared Me , very sound and honest black with much to like about him. Handsome in the head with well broken ears, dark eye, well arched neck and good deep rib with forechest. Level topline and correct well carried tail, very sound on the move with good reach and
drive. Res CC

3 Donalds's Gr Ch Spintaway Chief Cheroke, another really good dog, balanced with a lovely head, and good breed type, correct rib and forechest , topline and tail, just not so positive on the move as 1& 2, nevertheless a very good dog.

Open Neuter Dog
1 Young's Ch Dumbledeer Sunspark, Black, attractive dog of good size and substance, masculine in head with a good dark eye and lovely expression. Deep rib and level topline, moved well for his age.
2 Collins Ch/Neut Ch Hillsofsilver Phoenix, Liver with a lovely head, eye and expression, moved well.

Minor Puppy Bitch
1 Sullivan's Starswept Mochachoccino (AI) ,tood alone but she is a lovely bitch with a feminine head and darkest of eyes, excellent rib and forechest, well off for bone with good cat feet, well angled rear which she can use to advantage, moved really well, she is a little overmarked, so what.

Puppy Bitch
1 Marshall's, Pampard Planet Hollywood, lovely liver baby, feminine with grand head and eye colour. Has a quality outline, and is well made throughout moved with easy free stride, definitely one to watch..Res CC

2 Davies & Wright's Starswept Glitz, 7 months black baby with an awful lot to like, balanced throughout, good bone and feet, very sweet expression and sound body but she didn't want to show today, but I feel sure these two will constantly change places.

Junior Bitch
1 Young's Dumbledeer Aesturias, beautifully marked black of quality, very pretty with a good outline, arched neck, correct shoulder, rib and topline, well angled rear. Moved very soundly with style, would just like a bit more length in her muzzle for complete balance.

2 Dyer's Paceaways Gosh Im Flash, elegant and well put together black of style, very sweet head with good dark eye, sound front and good rear, just a bit loose in topline, but she has time. Moved soundly.

3 Donald's Sprintaway Spotlight in Paris, this black completed three really good bitches, really liked her head and expression, very good body and balance but was a little lame today, but feel sure she will do well when she is sound.

Intermediate Bitch
1 Donald's Sprintaway Shakiera, Stylish liver, looked good in profile, deep chest, well ribbed back, very attractive feminine head with deep amber eye, good bone and tight cat feet, level topline and good tail, moved soundly with plenty of reach and drive.

2 Mcconachy Visualimpact Divine Chocolat, bigger all through than 1 but very good type of bitch, strong and elegant, yet very feminine with a lovely head, dark eye and used her ears well., good sound body with great legs and feet. Moved soundly and stylishly when her handler got the rhythm.

3 Matthew's Ch Topspott Team Sky, would liked to have done more for this bitch as she is such a good type, but she was not having any of it today and was most unhappy.

Australian Bred Bitch
1 Mcconachy's Ch Visualimpact Star Attraction, well marked black, stylish, feminine and sound, balanced all through and full of quality, best of heads, and a body to match, moved freely with good reach and drive, impressive bitch.

2 Davies & Wright's Ch Gentry Swept by Stars, black of good size and substance, with lots to like,
very well balanced and scored in head and rear, bit out of coat but sound on the move and a very
honest Dal.
3 O'Brian's Coastdal Princess Lilly Rose, pretty lightly marked liver with a good body, bone and feet. Ok for size and moved very soundly, would just like a bit more length of muzzle.
Open Bitch
1 Johnson's Ch Hillsofsilver Lillibet, absolutely classic liver bitch, oozes breed type and quality. Markings are exceptional and such a good colour liver too. Head is feminine and well balanced with just the correct length of muzzle, darkest of amber eyes and the most wonderful expression, uses her
very pretty ears so well, correct bone and feet, well laid shoulder and level topline, deep well ribbed back chest, moderate cut up, strong well muscled loin and rear end, when she moves she is so fluid and easy, looks as though it is quite effortless, such impressive movement, no lack of reach or drive
but it looks so easy for her. She is the one that I would have taken home. She is nine years old and just beginning to show signs of ageing, even so for me she was undoubtedly the best bitch of the day - Bitch CC & Res BIS.

2 Marshall's Ch Gemcourt Playz with Fire, another really good liver, bit bigger all over but so sound and stylish on the move, really liked her very pretty head and good dark eye, very sound body with good legs and feet.

3 Davies & Wright's Ch Starswept Holiday Glitz, very honest and sound black with attractive and feminine head and dark eye, completed a trio of lovely bitches.

Open Neuter Bitch
1 Robertson's Starswept Southern Cross, Pretty little liver with a lovely head and eye, good solid body and level topline and very waggy tail, moved soundly.