2016 October Results
October Championship Show 2016
Judge: Mrs. Patti Strand & Mr. Rod Strand of Merrygoround Dalmatians USA
Special Vet Sweepstakes (1/2)
1. Gr Ch Starswept Just A Gigolo (Davies/Wright)

Veteran Sweepstakes (1/1)
1. CH Gentry Justa Rockstar (Mrs A Godyn)
Neuter Dog (0)
Neuter Bitch (3/4)
1. Ch & Neut Ch Coastdal Princess Lilly Rose (O'Brien)
2. Ch Thunderspot Violets Are Blue (O'Brien)
3. Neut Ch Dimadal Jazzie Jade (Osmond)
Best Neuter in Show - Ch & Neut Ch Coastdal Princess Lilly Rose
Baby Dog (3/3)
1. Telde The first Cool Harmony AI (Lawson)
2. Telde The First Winters Song AI (Lawson)
3. CcDals Domino Dreams Come True (Langton-Bunker)

Baby Bitch (5/5)
1. CcDals Daphne Timeless Beauty (Langton-Bunker)
2. CCDals Daisy Like The Wind (Langton-Bunker)
3. CcDals Delta Royal (Langton-Bunker)
Best Baby Puppy in Show - Telde The First Cool Harmony (AI)

Minor Puppy Dog (1/1)
1. Sprintaway Rimfire Red (Donald)
Puppy Dog (1/1)
1. HillOfSilver Ulysses (Bartley)

Junior Dog (2/3)
1. Telde The Diamond Smuggler AI (Lawson)
2. CcDals Commander N Chief (Donald)

Intermediate Dog (1/2)
1. Telde Mac Heath (Lawson & Leys)

Aust Bred Dog (5/6)
1. Ch Thunderspot Right Kind of Wrong (O'Brien)
2. Sup. Ch. Sprintaway Chief Cheroke (Donald)
3. Ch.Starswept Siriusly On Fire (Bower)
Open Dog (5/5)
1. Ch Starswept Painted From Memory (Davies & Wright)
2. Ch Telde Naughty Choc Obsession (Lawson)
3. Gr. Ch.Starswept Scottish Sovereign (Jones)

Dog Challenge - Ch Starswept Painted From Memory
Reserve Dog Challenge - Ch Thunderspot Right Kind of Wrong

Minor Puppy Bitch (4/4)
1. Sprintaway Ristana (Donald)
2. Thunderspot Designer Style (O'Brien)
3. Adstaff Black Velvet (Stubberfield)

Puppy Bitch (2/2)
1. HillOfSilver Umeko (Doong)
2. Thunderspot I Paint A Picture (O'Brien)

Junior Bitch (4/4)
1. Paceaway Winter Chill (Darling)
2. Telde First Summer Flower (Lawson)
3. Telde Diamonds Are Forever AI (Brown & Lawson)
Intermediate Bitch (5/5)
1. HillOfSilver Starlett (Doong)
2. Dimadal Oh Me Oh My (Osmond)
3. Paceaway Wingz O Fyre AI (Dyer)

Aust Bred Bitch (3/3)
1. Ch Paceaway Sabari (Donald)
2. Texico Lonestar (Godyn)
3. CcDals Bright Diamond Design (Langton Bunker)
Open Bitch (4/5)
1. Ch. Starswept Sapphires N Diamonds (Davies & Wright)
2. Ch. Sprintaway Shakiera (Donald)
3. Ch Krystaway Wicked In Silk (Langton-Bunker)

Bitch Challenge - Paceaway Winter Chill
Reserve Bitch Challenge - HillOfSilver Starlett
Best In Show - Ch Starswept Painted From Memory
Runner Up Best in Show - Ch Thunderspot Right Kind of Wrong
Opposite Sex In Show -Paceaway Winter Chill
Best Baby Puppy in Show -Telde The First Cool Harmony (AI)
Opposite Baby Puppy in Show -CcDals Daphne Timeless Beauty

Minor Puppy in Show -Sprintaway Rimfire Red
Opposite Minor in Show - Sprintaway Ristana
Puppy in Show -HillOfSilver Ulysses
Opposite Puppy in Show - HillOfSilver Umeko

Best Junior in Show - Paceaway Winter Chill
Opposite Junior in Show - Telde The Diamond Smuggler AI

Best Intermediate in Show -HillOfSilver Starlett
Opposite Intermediate in Show - Telde Mac Heath

Best Aust Bred in Show - Ch Thunderspot Right Kind of Wrong
Opposite Aust Bred in Show -Ch Paceaway Sabari

Best Open in Show -Ch Starswept Painted From Memory
Opposite Open in Show -Ch. Starswept Sapphires N Diamonds

Best Special Veteran in Show -Gr Ch Starswept Just A Gigolo

Best Veteran in Show -Ch Gentry Justa Rockstar
Best Neuter in Show -Ch & Neut Ch Coastdal Princess Lilly Rose
Best In Show
Dog Challenge, Open in Show - Ch Starswept Painted From Memory

Runner Up Best In Show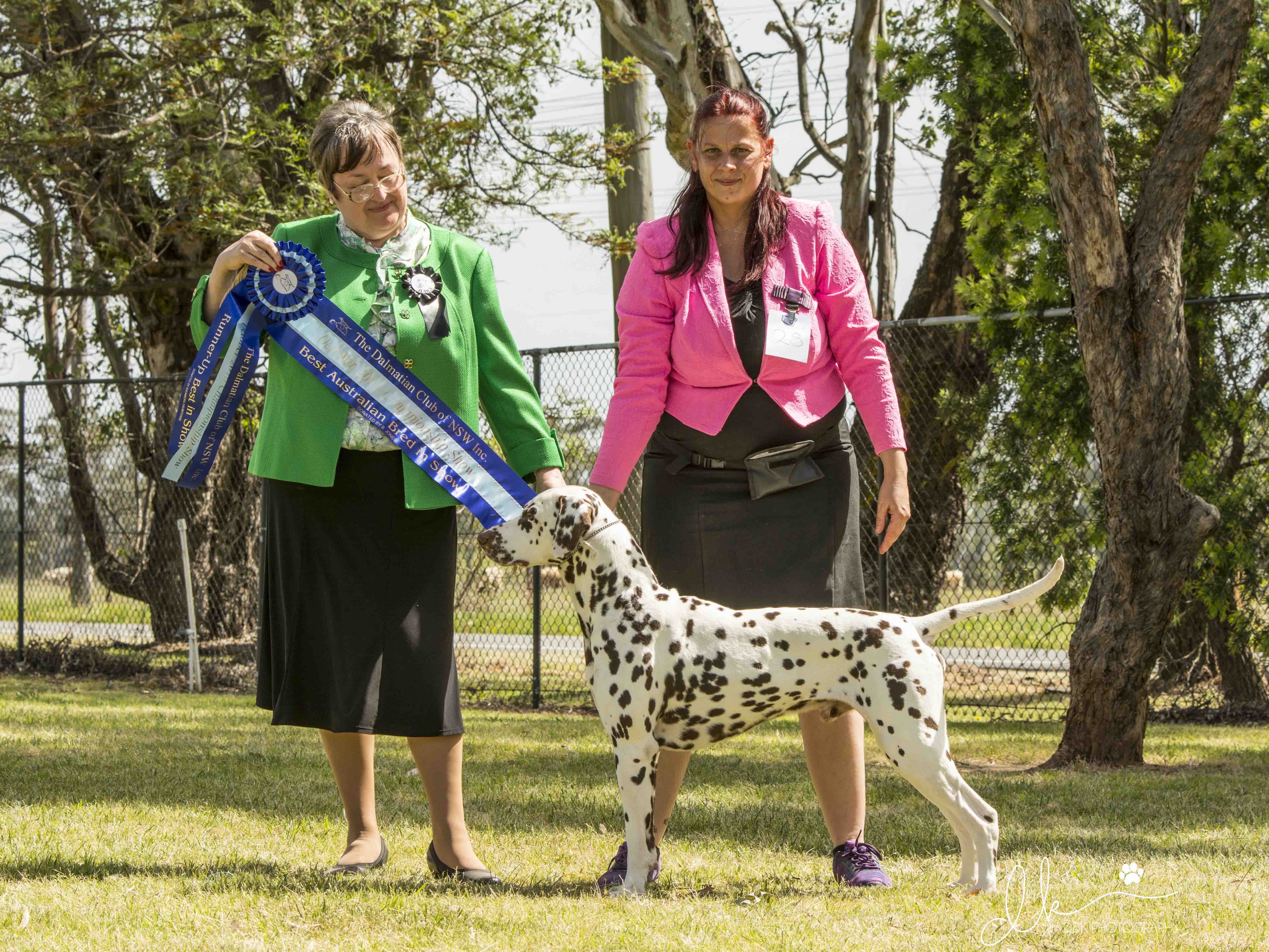 Reserve Dog Challenge, Aust Bred in Show - Ch Thunderspot Right Kind of Wrong
Bitch Challenge
& Reserve Bitch Challenge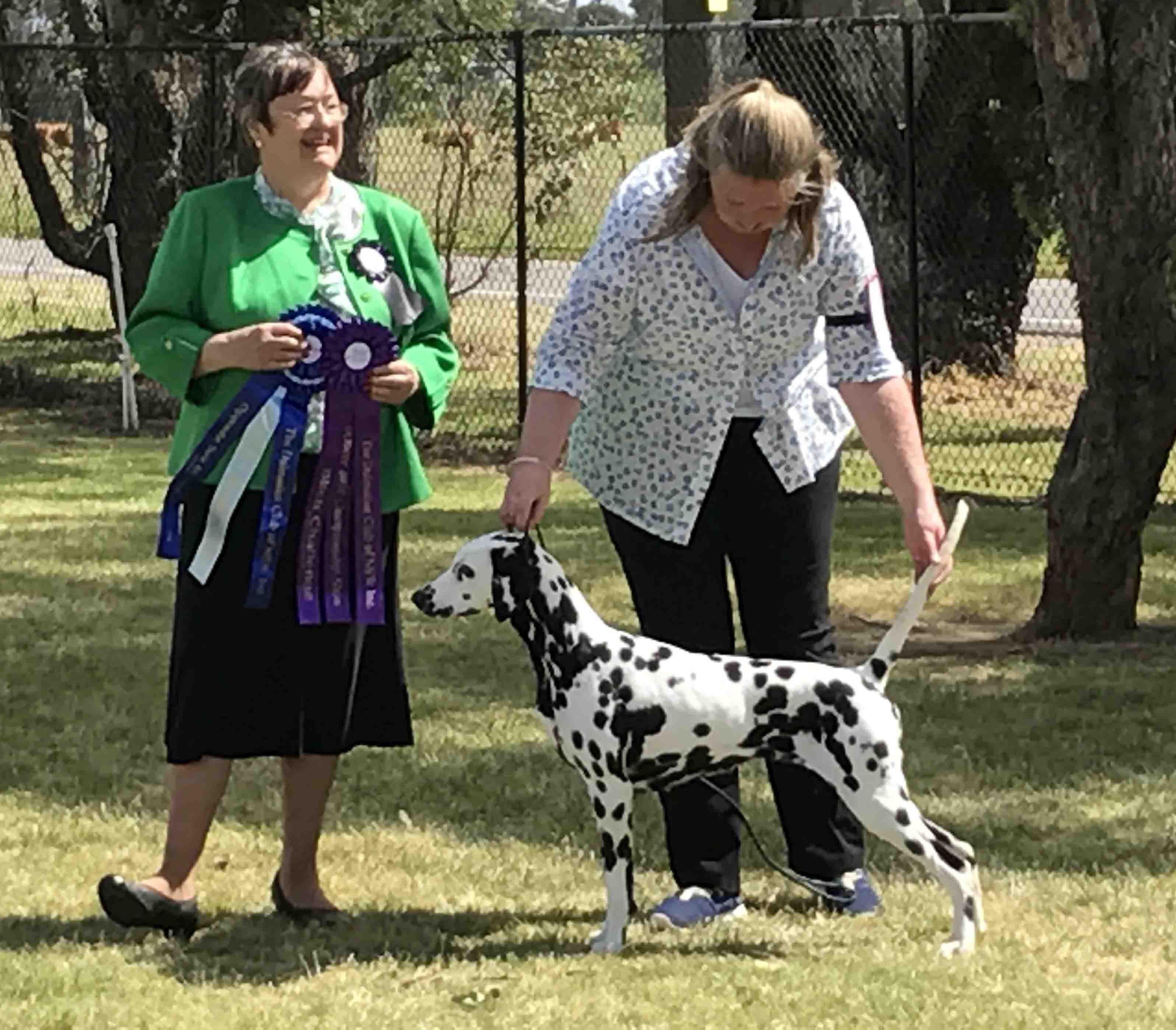 Bitch Challenge & Opposite Sex in Show - Paceaway Winter Chill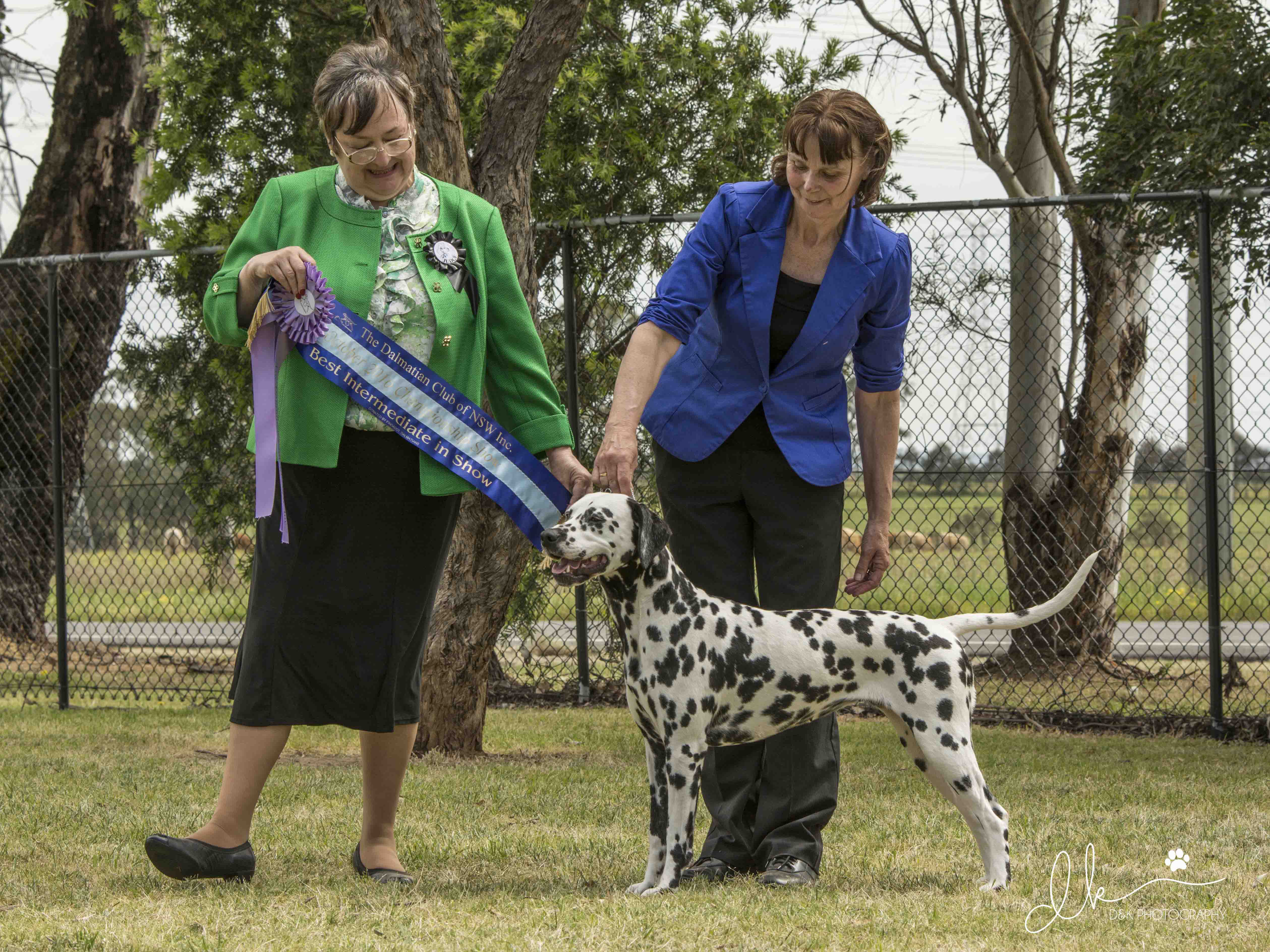 Reserve Challenge Bitch & Intermediate in show - Hillofsilver Starlett


Special Veteran In Show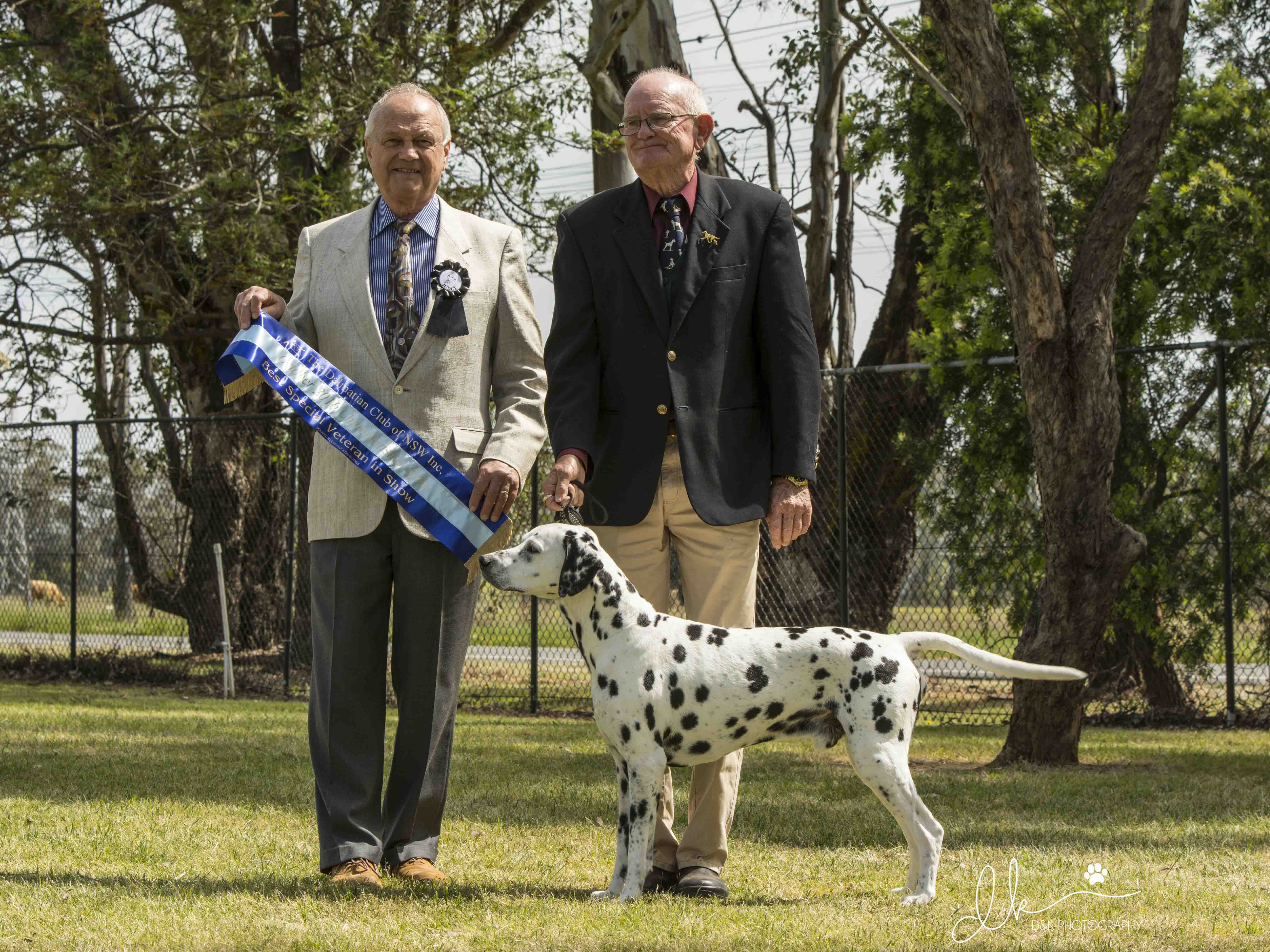 Best Special Veteran In Show -Gr Ch Starswept Just A Gigolo
Veteran In Show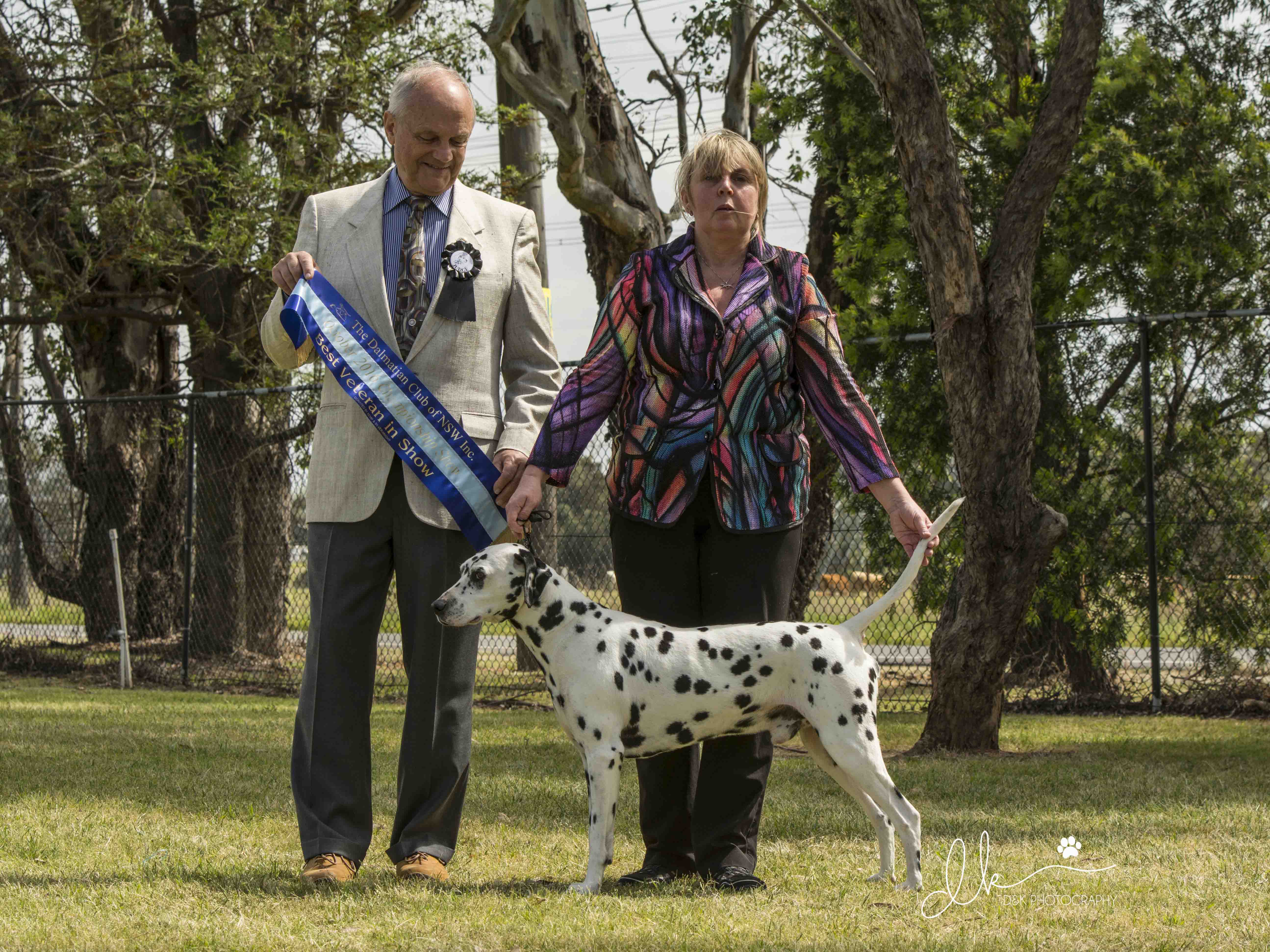 Best Veteran In Show -Ch Gentry Justa Rockstar

Puppy In Show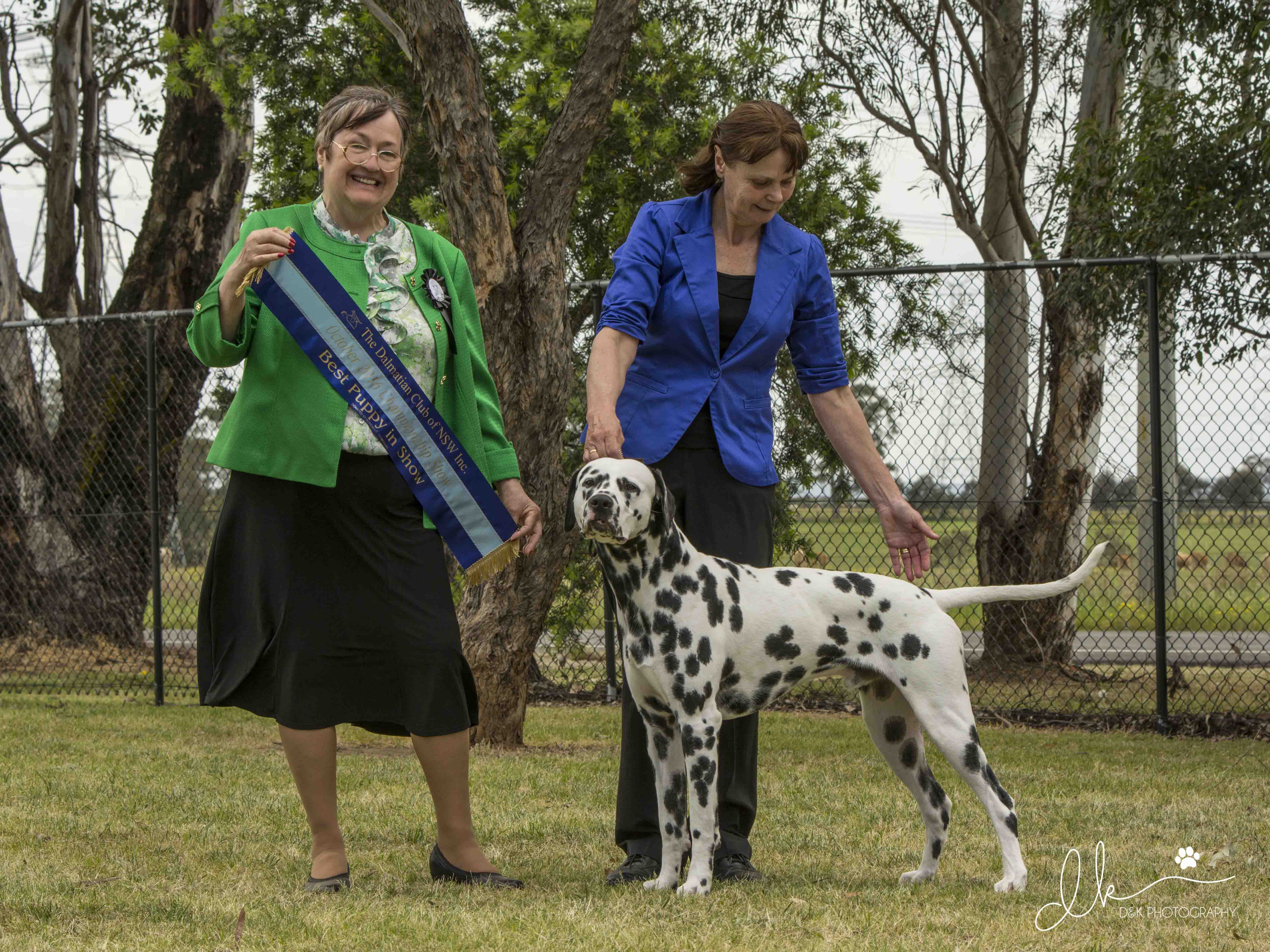 Best Puppy In Show -Hillofsilver Ulysses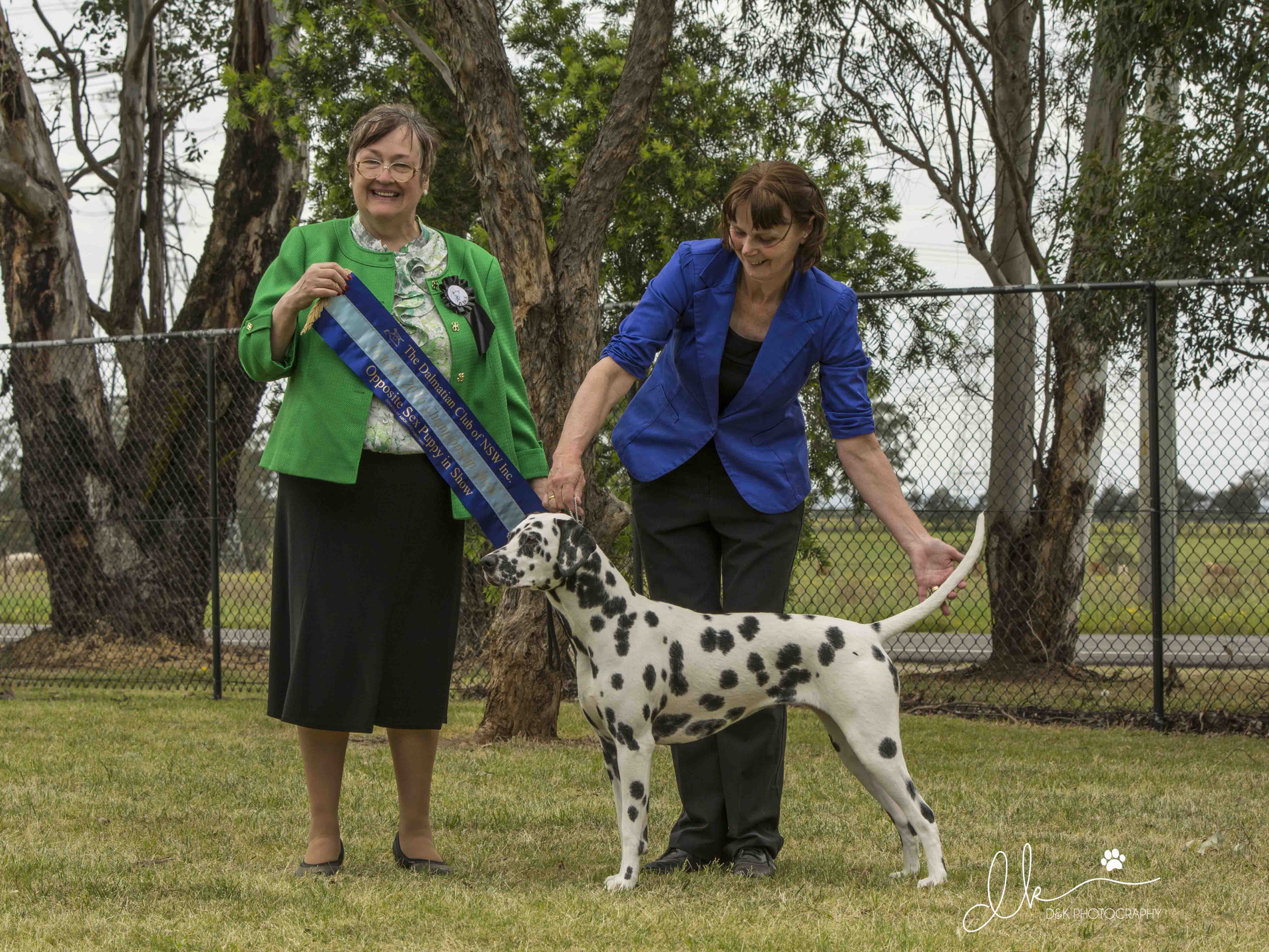 Opposite Puppy In Show -Hillofsilver Umeko
Junior In Show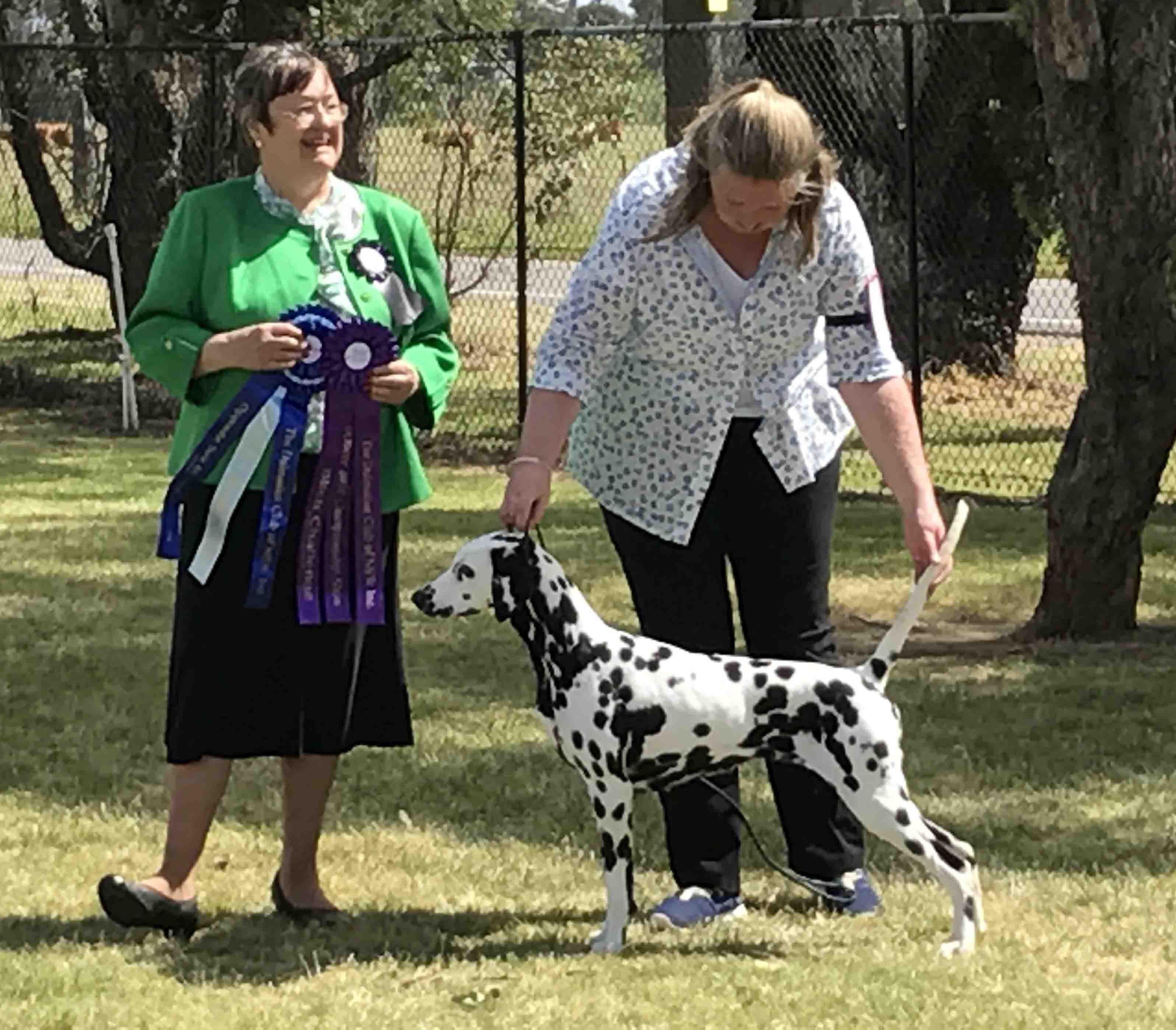 Best Junior In Show -Paceaway Winter Chill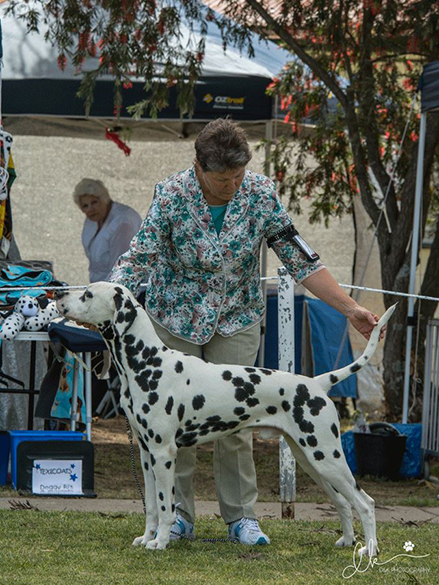 Opposite Junior In Show - Telde The Diamond Smuggler AI

Intermediate In Show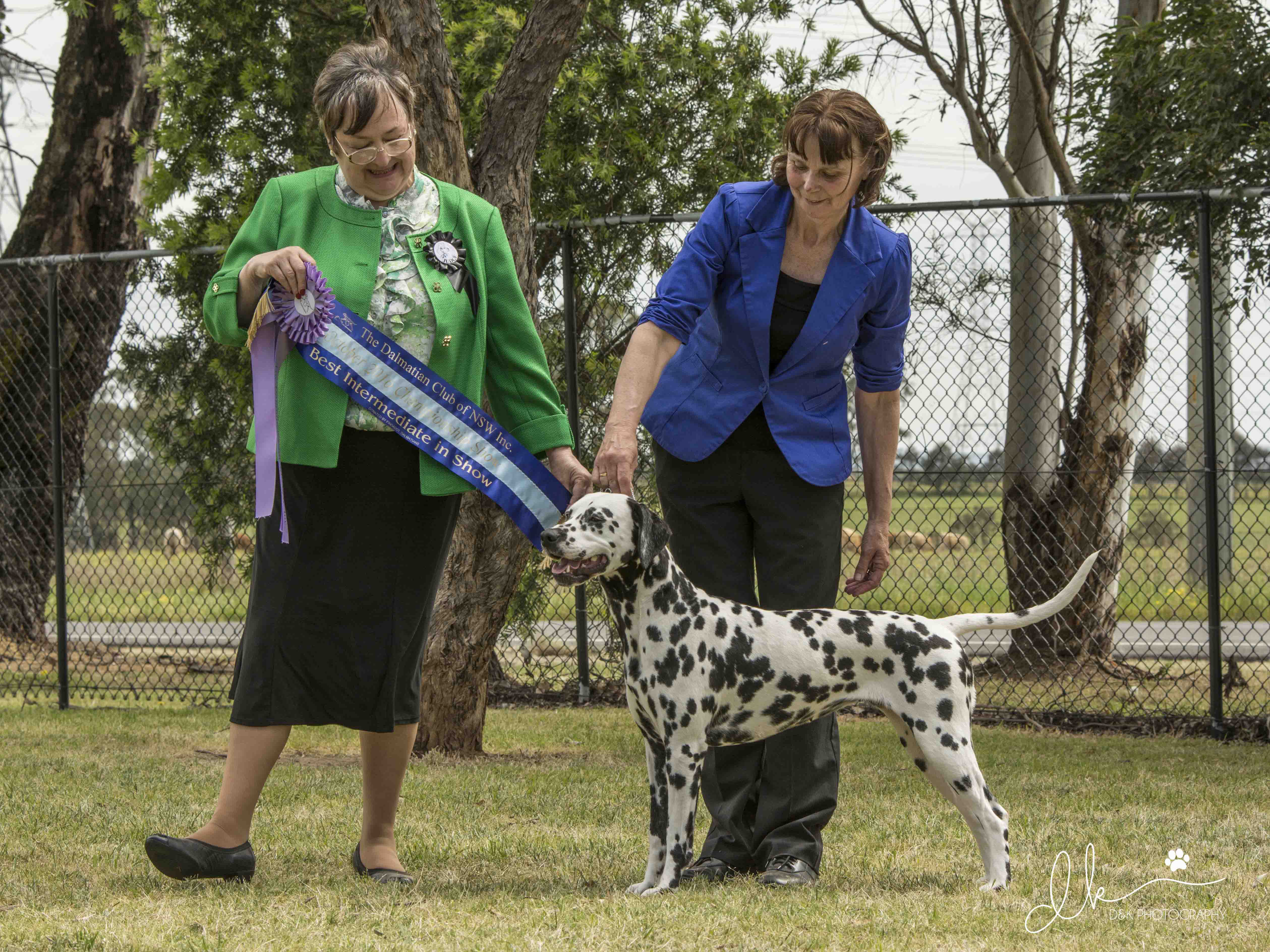 Best Intermediate In Show -Hillofsilver Starlett
Opposite Intermediate In Show - Telde Mac Heath
Australian Bred In Show
Best Australian Bred In Show -Ch Thunderspot Right Kind of Wrong
Opposite Australian Bred In Show - Ch Paceaway Sabari

Open In Show
Best Open In Show -Ch Starswept Painted From Memory
Opposite Open In Show - Ch. Starswept Sapphires N Diamonds
Critique
Mr R STRAND (MERRYGOROUND DALMATIANS) USA

Let me say a couple of things before entering comments. I do not do critiques ordinarily but I am critical constantly of my own dogs; have never produced the perfect one, but the charm and challenge of the sport is this: although you can help mother nature create better, faster, smarter wonderful animals, there are no inarguably perfect results.

We currently have two "babies" at home. One has finished his championship but is not yet mature enough to compete with other adult champions for added titles. Our line typically matures completely by about 34-36 months and at that time they are all that they are going to be. The other one is a puppy that is just 4 months old, but is growing in such a balanced way that he could be entered as a 6-month competitor. The difference between the two, and the reason I mention them, is that the older puppy is less of a line breeding than the younger one and both have had dramatically different maturation stages: the younger one is growing up with slight balance variations, while the older one showed definite signs of coming from two different lines at different times in his growth stages, making any guesses as to his final form nearly impossible. At this time, he is coming along just fine, but the road to get to the present state was interesting.

The point I am trying to make is that the puppies/babies are difficult to judge on any given day, not only for their playful behavior, but also for their appearance when you suspect that this stage or that stage could change to something different in the future. Apologies, I guess, for not knowing individual lines and what they will be as adults.

But on the day, here are my cursory observations. I saw enough of movement to notice what I wanted to see in terms of going, coming and side gait. I know that several had to move a number of times to get to an assessment of movement, but eventually all were observable. There was nothing wrong with the handling, and nothing wrong with playful babies, either. Keep them happy in the ring.

SPECIAL VETERAN SWEEPSTAKES
1st GR CH STARSWEPT JUST A GIGILO (P Davies & D&J Wright) Best Special Veteran in Show
No comparative comments, but was interested to see that the topline, tail set, balance, substance, depth of chest and forechest have all held up well for this dog.

VETERAN SWEEPSTAKES
1st CH GENTRY JUSTA ROCKSTARÂ (Mrs A Goodyn) Best Veteran In Show
No comparative comments either, but quality, health and vitality of the dog is apparent. As an owner of many dogs that have aged, I can see signs of what looks like older structural loin and hip assemblies in both of the veterans, remember rimadyl or whatever you use in Australia as time passes by.

NEUTER BITCH
1ST CH & NEUT CH COASTDAL PRINCESS LILLY ROSE (Miss M O'Brien) Best Neuter In Show
Good depth and uniformity of colour, good coming and going gait, acceptable side gait, balanced construction and decent neck/withers construction. Could have used a few more spots in critical areas but common tricolour areas were covered enough for assessment. I could have used a bit more muzzle substance. The side gait comment was because the dog is balanced front and rear in terms of angulation but I would like to see a bit more, but not more on one end without more on the other. The balance made the side gait OK.
2ND CH THUNDERSPOT VIOLETS ARE BLUE (Miss M O'Brien) Runner Up Best Neuter In Show
Head was OK, eye colour was a plus, side gait was also nice, well let-down hocks and good feet. Coming and going gait were OK; not negative, but not as impressive as the side gait. Tail set was OK, but I have to say that I look for a tail that comes off the spine without much drop at the croup, as an almost uninterrupted extension of the topline with a substantial connection width at the base of the tail, and it's difficult to find in just about all entries at all shows, regardless of whether it's Sydney Australia or Sidney Nebraska.
3RD NEUT CH DIMIDAL JAZZIE JADE (M&L Osmond)
Good depth of colour, reasonable side gait, feminine head and expression; visible forechest, but front assembly, tail set and neck set could be used as less competitive differences in comparing this dog against others in competition

BABY PUPPY DOG
1st TELDE THE FIRST COOL HARMONY (AI) (Mrs J Lawson) Best Baby Puppy In Show
Spotting and front assembly were good and to be watched for adult finished stage; if it stays that good, it should be rewarded. Head was OK, tail set was acceptable but could have come off topline with less drop at croup. Neck set and topline connection were good. Coming, going and side gait were OK for this stage of development.
2ND TELDE THE FIRST WINTERS SONG (AI) (Mrs J Lawson)
Head and front assembly were good, eye colour was a plus, feet were good. Tail set was acceptable, could have been a bit smoother as a continuation of the spine; spotting was also acceptable but not outstanding with mix of smaller markings with larger spots. Gait was OK, puppy is staging with rear height a bit ahead of front growth at this point in time.
3RD CCDALSDOMINO DREAMS COME TRUE (C Langton-Bunker)
Gait was acceptable, eye colour was a plus, head was nice, spotting was OK; could have used another spot or two at show side elbow and along stifle. Front assembly could have had more angulation, tail set was OK but could have better continuation of spine. Standing stack was good, feet good.

BABY PUPPY BITCH
1st CCDALS DAPHNE TIMELESS BEAUTY (C Langton-Bunker) Opposite Sex Baby Puppy In Show
Front assembly, head and eye colour were good; gaiting going and coming and side were all OK; spots were acceptable for this stage of growth. Front assembly tail set and gait were factors that set this entrant apart from others in competition
2ND CCDALS DAISY LIKE THE WIND (C Langton-Bunker)
Spotting color, eye color, coming and going gait were good; side gait and front were OK; length of body offset balance a bit at this stage of development. Overall very good and a competitive second place to the first placement.
3RD CCDALS DELTA ROYAL (C Langton-Bunker)
Spotting color and pattern were plusses, front assembly and gait were OK; eye color was acceptable but could have been a bit darker; tail set, neck set and topline were not flowing at this stage, tail set is less an extension of the topline than it could be. Overall eye-catching appearance but staging at this point is not what the puppy appears destined to be.
MRS PATTI STRAND (MERRYGOROUND DALMATIANS) USA
It was an honor to judge the Dalmatian Club of New South Wales Championship Show Oct. 9, 2016. The hospitality was fantastic; the grounds were excellent and the weather was perfect. The entry included many superior exhibits. Overall, the dogs were lovely, many showing good balance, even markings, good bone, legs and feet. Some had very nice outlines, with smooth neck sets, strong toplines, proper tail sets and good underlines. Many had good fronts with proper ribbing, shoulder layback and lay on, with excellent reach. On the negative side, many of the dogs needed tighter feet, moved too close behind and/or carried their tails too high. Several of the black spotted dogs had lighter eyes than ideal. A couple Dalmatians were difficult to examine due to a lack of socialization or other temperament issues.
MINOR PUPPY DOG
1ST SPRINTAWAY RIMFIRE RED (M&L Donald) Best Minor Puppy In Show
This is a lovely young puppy with evenly-distributed markings and an easy gait. This dog's basic make is very nice. With maturity, a deeper chest, developed muscling and a little size this dog will be competitive.
PUPPY DOG
1ST HILLOFSILVER ULYSSES Mrs C Bartley) Best Puppy In Show.
This dog was well balanced, and had good spotting distribution, but he is a little larger than ideal for the breed
JUNIOR DOG
1ST TELDE THE DIAMOND SMUGGLER AI(Mrs J Lawson) Opposite to Best Junior In Show.
This is a promising, well-balanced dog with strong bone and good markings. His maturity could improve his proportions
2ND CCDALS COMMANDER N CHIEF (M&L Donald)
This puppy was not at his best stage for evaluating. In particular he was not ready for the show experience and was difficult to examine both standing and on the move.
INTERMEDIATE DOG
1ST TELDE MAC HEATH (J Lawson & S Leys) Opposite to Best Intermediate In Show
This dog has effortless, balanced movement and an excellent neck set.
AUSTRALIAN BRED DOG
1st CH THUNDERSPOT RIGHT KINDOF WRONG (Miss M O'Brien) ResDogCC, Best Aust Bred In Show, Runner up to Best In Show
Beautiful overall type and balance, good bone, legs and feet.
2ND SUP CH SPRINTAWAY CHIEF CHEROKE (M&L Donald)
Lovely overall, but a little longer than ideal.
3RD CH STARSWEPT SIRIUSLY ON FIRE (Miss M Bower)
Typey dog with good balance, but a little higher tail than idea.


OPEN DOG
1st CH STARSEPT PAINTED FROM MEMORY (P Davies & J&D Wright) DogCC, Best Open In Show, Best Exhibit In Show
Based on the breed standard, this dog is of beautiful type with a perfect outline for the breed. His topline including his neck set, back, loin and tailset are ideal. His underline, ribbing and body length are excellent. His head is typey and in balance with his body. His spotting is well distributed, of good size and pigment.
2ND CH TELDE NAUGHTY CHOC OBSESSION (Mrs J Lawson)
Lovely liver dog with nice movement. This dog was hard to evaluate due to handling
3RD GR CH STARSWEPT SCOTTISH SOVEREIGN (Mr B Jones)
This is an honest dog that would be greatly improved with a few topline improvements.

MINOR PUPPY BITCH
1ST SPRINTAWAY RISTANA (M&L Donald) Opposite to Minor Puppy In Show.
This exhibit appear a little longer than ideal. She has a nice side gait, but moves a little close going away. She has good spotting.
2ND THUNDERSPOT DESIGNER STYLE(Miss M O'Brien)
This bitch is very nice going around but is sloppy coming back to the judge on the up and back. Her spotting could also be improved.
3RD ADSTAFF BLACK VELVET (Miss H Stubberfield)
This bitch could be a little more substantial, is lightly marked and a little sloppy coming back to the judge.
PUPPY BITCH
1st HILLOFSILVER UMEKO Dr NC Doong) Opposite to Best Puppy In Show
This bitch travelled well in the circle, but her overall gait was not as even as it will be with maturity. Her eyes were dark and her coat and markings were very nice
2ND THUNDERSPOT I PAINT A PICTURE Miss M O'Brien)
This bitch had good breed type and size, but her movement was not yet totally coordinated. With maturity her movement will improve
JUNIOR BITCH
1ST PACEAWAY WINTER CHILL (Ms F Darling) Bitch CC, Best Junior In Show, Best Opposite Sex to Best In Show.
This bitch has good breed type and style. Her movement was good overall, but the front needs maturity to be competitive. Nice spotting and good coat.
2ND TELDE FIRST SUMMER FLOWER (Mrs J Lawson)
This is a nice liver bitch of good substance. She is a little close going away and loose coming back to the judge.

3RD TELDE DIAMONDS ARE FOREVER (AI) (A Brown & Mrs J Lawson)
Nice bitch. Good markings but not as good in the circle as some of the competition. She is close in the rear going away but nice coming back to the judge.

INTERMEDIATE BITCH
1ST HILLOFSILVER STARLETT Dr NC Doong) Res BitchCC, Best Intermediate In Show
This is an honest bitch with good substance. She is balanced, moves well in the circle, and is quite acceptable coming and going. Her eyes are dark. She has a good temperament but was not shown to full advantage, seldom holding a good show stance.
2ND DIMIDAL OH ME OH MY (M&L Osmond)
This bitch has a lovely outline and moved well in the circle.
3RD PACEAWAY WINGZ O FYRE AI) (Mrs P & Miss L Dyer)
This is a stunning liver bitch with rich pigment and well distributed markings. Her outline is outstanding and her proportions are very good. Unfortunately, she is not yet socialized enough to be competitive. Her discomfort with the ring, both during the examination and while moving showed throughout the judging process.

AUSTRALIAN BRED BITCH
1ST CH PACEAWAY SABARI M&L Donald) Opposite to Best Australian Bred In Show
This is a typey bitch who would have been more competitive if in better show condition. She was a little heavier than ideal for the ring, something that took away from her athleticism and underline. Her markings are well distributed; her eye colour is very nice and her gait is balanced in the circle
2ND TEXICO LONESTAR (Mrs A Godyn)
This is an honest bitch, who is better coming back to the judge than going away.
3RD CCDALS BRIGHT DIAMOND DESIGN (C Langton-Bunker)
Nice liver bitch who moved too close going away but was good coming back
OPEN BITCH
1st CH STARSWEPT SAPPHIRES N DIAMONDS (P Davies & J&D Wright) Opposite to Best Open In Show.
This bitch has a lovely side gait, a nice outline and good eye colour. She moved with balance, was good coming back to the judge, but a little close going away.
2ND CH SPRINTAWAY SHAKIERA (M&L Donald)
This girl is balanced in her gait but needed better spotting.
3RD CH KRYSTAWAY WICKED IN SILK (C Langton-Bunker)
This bitch is nice overall but she was a little pudgy for the showring, a condition that took away from her outline and gait.